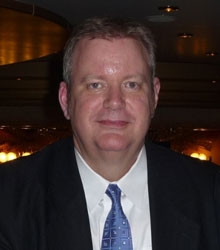 Drowsy driving significantly increases the risk of becoming involved in a crash, and it is a risk that people should not take.
Austin, Texas (PRWEB) January 17, 2013
Austin car accident lawyer Don R. Cotton today called for increased efforts to reduce car crashes caused by driver fatigue after a new study revealed over 4 percent of motorists admitted to recently falling asleep while driving.
"The Centers for Disease Control and Prevention has now provided important evidence demonstrating that drowsy driving is a serious public health problem, on par with drunk driving. It is essential that this study spur action to stop the dangerous practice of driving while overly fatigued," said Cotton, who practices with The Bob Richardson Law Firm, with offices in Waco and Austin, Texas.
The CDC recently released the results of the largest-ever survey on drowsy driving in America. According to the study, 4.2 percent of adults surveyed indicated that they had fallen asleep while they were driving at least once during the prior 30 days. Texas posted the worst statistics in the study, with over 6 percent of respondents from Texas reporting that they had fallen asleep while driving sometime in the last 30 days.
"It is hard to believe that some drivers would stay behind the wheel when they are so tired that they are falling asleep, but these new data show that drowsy driving is a very widespread problem, especially among men and younger drivers," Cotton said.
Researchers surveyed 147,076 people in 19 states and the District of Columbia. Each respondent was asked to answer a detailed series of questions about their sleep habits and their driving habits.
While only 1.7 percent of respondents 65 and older reported falling asleep while driving, around 5 percent of drivers ages 18-44 reported nodding off within 30 days before taking the survey. Men were also more likely than women to drive when fatigued, according to the CDC study. While only 3.2 percent of women answered "yes" to falling asleep while driving in the 30 days prior to the survey, 5.3 percent of men said they had fallen asleep at the wheel during the previous month.
"No one, young or old, man or woman, should be driving when they are so tired or drowsy that they are on the cusp of falling asleep," Cotton said. "Drowsy driving significantly increases the risk of becoming involved in a crash, and it is a risk that people should not take."
Cotton said he believes that a better understanding of the dangers of drowsy driving is especially important in his home state of Texas, considering that more residents of the state reported falling asleep at the wheel than did the residents of any other state in the study.
According to Texas Department of Transportation statistics, there were 136 fatal car accidents in Texas that were attributed to a driver's being fatigued or asleep during 2011. There were also 1,178 serious-injury crashes, 711 other-injury crashes, 57 crashes of unknown severity and 2,101 non-injury crashes that listed drowsy driving as a contributing factor, according to Texas DOT figures.
"This type of crash could be prevented if drivers would use common sense. If you are tired, stop and rest. Don't expect to drive on no sleep and to be able to function as well as you could if you were rested," Cotton said.
Public education campaigns about the dangers of driver fatigue are under way, including the DrowsyDriving.org website sponsored by the National Sleep Foundation. The site provides educational materials, handouts, a teen/parent contract and event ideas, among other resources.
"While these steps are a start, the results of the CDC study and the high rate of drowsy driving accidents in Texas show that they aren't enough," Cotton said.
He said victims of fatigued driving accidents should hold drowsy drivers accountable for their negligence by bringing an auto accident lawsuit against them. He urged victims to consult with an experienced Texas car accident lawyer such as those at The Bob Richardson Law Firm.
About the Bob Richardson Law Firm
The Bob Richardson Law Firm is a highly respected Texas personal injury and Social Security disability law firm. The firm is dedicated to providing skilled and professional legal services to clients in cases involving car accidents, motorcycle accidents, truck accidents, drunk driving accidents, construction accidents, workplace accidents and slip-and-fall accidents, as well as representation to those seeking benefits for Social Security Disability Insurance (SSDI) and Supplemental Security Income (SSI). The firm features offices in Austin and Waco and assists clients throughout Round Rock, Georgetown, Killeen, Temple, Cedar Park, Lakeway, Taylor, Belton and surrounding Texas communities. The firm's principal office is located at 812 San Antonio St., Suite 300, Austin, TX 78701 (local phone (512) 472-5100). To learn more about The Bob Richardson Law Firm, call (800) 880-5100 or use the firm's online form.