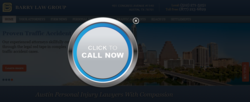 AUSTIN, TX (PRWEB) October 18, 2012
In keeping with the latest in Web technology, the Barry Law Group has set up click to call functionality on the firm's website in order to offer better customer service and increase engagement with visitors.
The functionality works through a pop-up screen on the home page that simply says "Click to Call Now" and a button on the right side of each page that says "Call Us." Through this newly added feature, the practice has seen a substantial increase in user engagement as well as improved customer service.
The functionality is simple and effective: Once someone clicks the button, a prompt appears, asking the visitor to provide a phone number. The system behind the functionality then calls the provided number. Once the website's visitor answers the call, the system calls the Barry Law Group to connect the visitor with a member of the firm's staff.
"We're committed to being available to people who need experienced personal injury attorneys," said Brett A. Burlison, one of the partners at the Barry Law Group. "This functionality will serve to help people get in touch with us faster. Visitors to our site are oftentimes in distress and guiding them to speak to a live person upon their visit is the easiest and fastest way to start on a solution for their problem."
Visitors to the website are still able to call the firm through its local and toll free numbers, which are listed at the top of each Web page on the site.
The Barry Law Group is part of an elite group of personal injury practices that are always pioneering new services in order to better service their clients.
"We recognize that the Web is where people will find us and, to that end, we seek to offer our visitors the best and most intuitive experience," said Carl R. Barry, a partner in the practice.
The implementation of their new technology will give visitors the chance to have their calls answered by a real person instead of an answering machine.
About the Barry Law Group
The Barry Law Group is a personal injury law firm in Austin, Texas. Attorneys Carl R. Barry and Brett A. Burlison have more than 20 years of litigation experience. Both attorneys are members of the Million Dollar Advocates Forum. Carl R. Barry has been recognized as a Texas Super Lawyer Rising Star three times and was named as one of the Top Attorneys and Outstanding Young Lawyers in the field of personal injury law for the state of Texas. Brett A. Burlison is licensed to practice in Texas and California and has been named as a California Super Lawyer Rising Star.
###