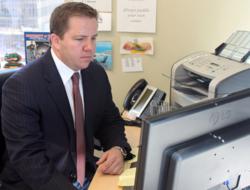 AUSTIN, TEXAS (PRWEB) October 02, 2012
The Austin car accident attorneys at the Barry Law Group have started a legal blog to provide personal injury information to people looking for answers.
The blog, Austin Injury Law Answers, addresses common questions for injury victims, provides legal analysis of up-to-date issues that have an effect on consumers and their rights and discusses issues relevant to the Austin legal community.
The blog is written by the Austin personal injury attorneys at the Barry Law Group, who encourage comments and questions.
"People who have suffered a personal injury usually have more questions than answers," attorney Brett A. Burlison said. "The time after an accident is confusing. We want to help make that time a little easier."
The questions addressed on the blog are taken from the attorney's real-world experience. They're meant to simulate actual questions that the attorneys have received in their personal injury practice.
"When someone has suffered in a personal injury accident, we'd love to have them come to us for help," Burlison said. "But we also want to help them when they're looking for answers and researching their options."
Recently, the blog has touched on subjects such as traumatic brain injury, product recalls, misleading health claims and workplace injury.
About the Barry Law Group
The Barry Law Group is a personal injury law firm in Austin, Texas. Attorneys Carl R. Barry and Brett A. Burlison have more than 20 years of litigation experience. Both attorneys are members of the Million Dollar Advocates Forum. Carl R. Barry has been recognized as a Texas Super Lawyer Rising Star three times and was named as one of the Top Attorneys and Outstanding Young Lawyers in the field of personal injury law for the state of Texas. Brett A. Burlison is licensed to practice in Texas and California and has been named as a California Super Lawyer Rising Star.
###