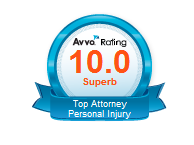 New Braunfels, Texas (PRWEB) October 15, 2012
Matt Kyle at The Kyle Law Firm has earned a rating of 10.0 from Avvo, an unbiased rating system for attorneys.
Avvo uses a mathematical model to rate attorneys on a scale of 1-10. The model considers information from public records, Internet sources and information supplied to Avvo by attorneys.
Any rating above 9.0 earns attorneys a "Superb" ranking, but a 10.0 rating lends even more authority to attorneys such as those at The Kyle Law Firm.
Read more about the attorneys at The Kyle Law Firm by visiting the New Braunfels personal injury attorney profiles on the firm's website.
Matt Kyle, the lead attorney at The Kyle Law Firm, earned his 10.0 rating through his three peer endorsements and his contributions, according to his Avvo profile.
"These rating systems help people who need lawyers to find an attorney who can truly help them," Kyle said. "They can tell people whether an attorney is honest, experienced and respected, which can really help in times after someone has suffered a personal injury or is facing criminal charges."
About The Kyle Law Firm
The Kyle Law Firm is a personal injury and criminal defense firm in New Braunfels, Seguin, San Marcos and Austin, Texas. Matt Kyle, the firm's founding partner, has been representing clients in Central Texas for the last 20 years. He was named a Texas Monthly Super Lawyer in 2011 and 2012 and the firm has been chosen as a newspaper readers' favorite for Best Law Firm in New Braunfels three years running. To learn more about the personal injury cases The Kyle Law Firm can handle, click here.