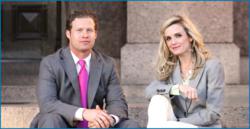 AUSTIN, TEXAS (PRWEB) January 08, 2013
Austin criminal defense attorneys Blair Carroll and Meredith "Shelly" Troberman launched a new website for their firm, Carroll Troberman Criminal Defense, this week.
The new website features bios of the attorneys, detailed pages about charges the firm defends clients against, and an informative blog discussing topics relevant to DWI defense, drug possession defense, probation violations and other facets of criminal defense.
Visitors to the site can easily find information about the firm's attorneys' experience in the field of criminal defense and read about the awards and memberships the attorneys have accepted, including Carroll's membership in the National College for DUI defense and Troberman's history as a prosecutor for the Travis County Attorney's Office.
"We look forward to this website helping people find more information about crimes and tips for picking the right attorney," Carroll said. "The time after an arrest is a very confusing time for many, and we're proud to be able to provide people with the information they need in order to protect their rights and freedom."
To learn more about Carroll Troberman Criminal Defense, visit the firm's website.
About Carroll Troberman Criminal Defense
Carroll Troberman Criminal Defense is the Austin, Texas criminal defense practice of attorneys Blair Carroll and Meredith "Shelly" Troberman. The firm's attorneys have successfully defended hundreds of criminal cases, ranging from assault to DWI cases. Carroll Troberman Criminal Defense accepts most criminal cases, including DWI, DUI, assault, murder, robbery, sex crimes, domestic violence, illegal possession of weapons, drug possession, hit and run and white collar crime charges. Blair Carroll is a member of the esteemed National College for DUI Defense and Meredith "Shelly" Troberman has devoted her entire career to criminal law, both as a defense attorney and as a district attorney.
###