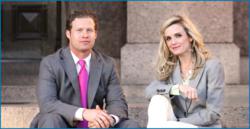 AUSTIN, TEXAS (PRWEB) May 07, 2013
Carroll Troberman Criminal Defense now accepts criminal cases in the Travis County court system.
The Austin criminal defense firm handles DWI and DUI cases, along with a range of other criminal cases, including probation violations, domestic violence, assault, robbery, theft, weapons charges, arson, drug possession, hit and run and white collar crime.
According to Meredith "Shelly" Troberman, one of the principals at the firm, pursuing cases in Travis County was a natural fit for the firm.
"My partner Blair and I have defended clients in Travis County for years before we started this partnership, and I was a prosecutor for the Travis County Attorney's Office before I went into private practice," Troberman said. "We care a lot about the Austin area, and we want to pursue justice for every person in Travis County."
The firm serves Travis County clients at its Austin office at 502 West 14th St., Suite B, and encourages potential clients to call the firm for a consultation at 512-605-1619. Click here to read more about the firm's attorneys.
About Carroll Troberman Criminal Defense
Carroll Troberman Criminal Defense is the Austin, Texas criminal defense practice of attorneys Blair Carroll and Meredith "Shelly" Troberman. The firm's attorneys have successfully defended hundreds of criminal cases, ranging from assault to DWI cases. Carroll Troberman Criminal Defense accepts most criminal cases, including DWI, DUI, assault, murder, robbery, sex crimes, domestic violence, illegal possession of weapons, drug possession, hit and run and white collar crime charges. Blair Carroll is a member of the esteemed National College for DUI Defense and Meredith "Shelly" Troberman has devoted her entire career to criminal law, both as a defense attorney and as a district attorney.
###