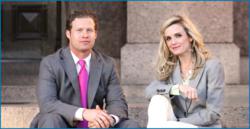 AUSTIN, TX (PRWEB) June 05, 2013
The Austin criminal defense attorneys at Carroll Troberman Criminal Defense are now offering legal services to people facing criminal charges in Comal County.
The firm's attorneys will handle criminal cases in front of the Comal County court, including domestic violence, weapons charges, arson, drug possession, assault, white collar crime, theft and probation violations. The firm will also work on DWI cases, a specialty of one of the firm's founding partners, Blair Carroll.
Carroll is a member of the highly selective National College for DUI Defense and has embraced the complexities of DWI defense and blood/alcohol analysis.
"Serving Comal County made a lot of sense for our firm," Carroll said. "My partner and I have been defending clients along the I-35 corridor for years, and I spent the bulk of my career as a defense attorney in New Braunfels and San Marcos. I look forward to our firm fighting for the rights of defendants in Comal County."
The firm will serve Comal County clients in their new San Marcos satellite office. To learn more about the firm, click here.
About Carroll Troberman Criminal Defense
Carroll Troberman Criminal Defense is the Austin, Texas criminal defense practice of attorneys Blair Carroll and Meredith "Shelly" Troberman. The firm's attorneys have successfully defended hundreds of criminal cases, ranging from assault to DWI cases. Carroll Troberman Criminal Defense accepts most criminal cases, including DWI, DUI, assault, murder, robbery, sex crimes, domestic violence, illegal possession of weapons, drug possession, hit and run and white collar crime charges. Blair Carroll is a member of the esteemed National College for DUI Defense and Meredith "Shelly" Troberman has devoted her entire career to criminal law, both as a defense attorney and as a district attorney.
###