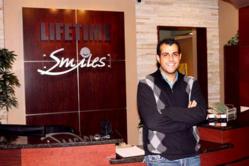 AUSTIN, TEXAS (PRWEB) June 20, 2013
Lifetime Smiles Adult and Pediatric Dentistry is offering $1,500 off Invisalign treatment for a limited time.
Invisalign allows patients to skip the hassle and discomfort of traditional braces while still straightening their teeth. The teeth-straightening program uses clear plastic aligners to straighten teeth, instead of the brackets and wire that traditional braces use.
When a patient decides to start Invisalign treatment, he or she visits the dentist's office to have impressions of their teeth taken and sent to a dental lab, which will create custom-made aligners to straighten the patient's teeth. Patients wear these aligners for 20-22 hours each day, switching them out for new ones every two weeks. Throughout the process, the patient schedules regular checkups with the dentist, who will monitor the patient's progress.
Invisalign treatment offers many advantages over traditional braces, including that they're invisible, comfortable and they come with no meal restrictions for the patient because the aligners are removable.
"Invisalign treatment is a great option for many patients who would like straighter teeth, but don't want the embarrassing wires and brackets that come with traditional braces," said Dr. Shahram Arzegar, one of the Austin dentists at Lifetime Smiles Adult and Pediatric Dentistry.
To see the special offer, click here.
About Lifetime Smiles Adult and Pediatric Dentistry
Lifetime Smiles Adult and Pediatric Dentistry is the South Austin dental practice of Dr. Shahram Arzegar. Dr. Arzegar opened Lifetime Smiles with the goal of providing every patient with high-quality and personalized dental care. Patients are treated to a comfortable experience at Lifetime Smiles Adult and Pediatric Dentistry. Every chair has a flat-screen television above it and the practice keeps a massage therapist on staff to soothe patient's dental anxieties. At Lifetime Smiles, Dr. Arzegar works with his patients to find the best treatment plans for their unique needs and goals.