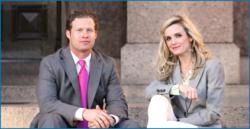 AUSTIN, TEXAS (PRWEB) January 30, 2013
Blair Carroll and Meredith "Shelly" Troberman have joined forces to form Carroll Troberman Criminal Defense, a new law firm in Austin, Texas.
Carroll and Troberman chose to start their new firm because they "have a similar philosophy regarding client relations," Carroll said.
The two Austin criminal defense attorneys met in 2003 while in law school and bonded over their passion for helping people by practicing criminal defense law.
Before joining Carroll in starting this new firm, Troberman had a solo criminal defense practice that focused on Travis and Williamson counties. Carroll, meanwhile, worked with The Kyle Law Firm for five years and practiced primarily in Hays, Guadalupe and Comal counties. With their new firm, Carroll and Troberman look forward to helping more people along the I-35 corridor.
"Together, we are able to provide our clients with better representation because we both bring a unique set of skills to the table," Carroll said. "Partnering up also allows us to cover more counties on a day-to-day basis. Our clients are able to benefit from our partnership because they'll have both of us trying their cases."
To learn more about Carroll and Troberman, click here.
About Carroll Troberman Criminal Defense
Carroll Troberman Criminal Defense is the Austin, Texas criminal defense practice of attorneys Blair Carroll and Meredith "Shelly" Troberman. The firm's attorneys have successfully defended hundreds of criminal cases, ranging from assault to DWI cases. Carroll Troberman Criminal Defense accepts most criminal cases, including DWI, DUI, assault, murder, robbery, sex crimes, domestic violence, illegal possession of weapons, drug possession, hit and run and white collar crime charges. Blair Carroll is a member of the esteemed National College for DUI Defense and Meredith "Shelly" Troberman has devoted her entire career to criminal law, both as a defense attorney and as a district attorney.
###