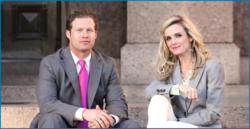 AUSTIN, TEXAS (PRWEB) June 12, 2013
Carroll Troberman Criminal Defense now serves Guadalupe County, providing criminal defense services to people facing charges in Guadalupe County courts.
Offering services in Guadalupe County was a natural fit for the firm, according to one of its Austin criminal defense lawyers, Blair Carroll. Carroll spent five years as a criminal defense attorney in Comal, Hays and Guadalupe counties before opening Carroll Troberman Criminal Defense with his partner, Meredith "Shelly" Troberman.
"I'm excited for the opportunity to work with the people of Guadalupe County again," Carroll said. "Shelly and I both chose to be defense attorneys because we like helping people, and expanding our services into Seguin and the surrounding area allows us to fight for the rights of even more people."
Both attorneys will be available to take meetings for clients facing criminal charges in Guadalupe County at the firm's San Marcos satellite office or at the Austin office. Meetings are available by appointment and can be scheduled by calling 512-605-1619 or by clicking here.
About Carroll Troberman Criminal Defense
Carroll Troberman Criminal Defense is the Austin, Texas criminal defense practice of attorneys Blair Carroll and Meredith "Shelly" Troberman. The firm's attorneys have successfully defended hundreds of criminal cases, ranging from assault to DWI cases. Carroll Troberman Criminal Defense accepts most criminal cases, including DWI, DUI, assault, murder, robbery, sex crimes, domestic violence, illegal possession of weapons, drug possession, hit and run and white collar crime charges. Blair Carroll is a member of the esteemed National College for DUI Defense and Meredith "Shelly" Troberman has devoted her entire career to criminal law, both as a defense attorney and as a district attorney.
###