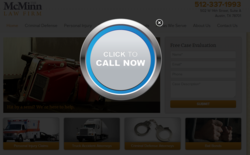 AUSTIN, TEXAS (PRWEB) October 01, 2012
The McMinn Law Firm website has a new feature to make getting in touch with the Austin DWI defense attorneys even easier.
Clicking the website's click to call button brings up a prompt for visitors to provide a phone number, which the system behind the technology calls immediately. Once the website's visitor answers the call, the system calls the McMinn Law Firm to connect the visitor with a member of the law firm's staff.
"We strive to be available to our clients at all times," said Justin McMinn, one of the attorneys at the McMinn Law Firm. "This new functionality for our website is there to make contacting us easier. When people have been involved in a personal injury accident or when they've been arrested, they need help as quickly as possible. This button should make calling us a better experience."
The button is available through the "Call Us" feature on the right side of every page on the website. The site's live chat and free case evaluation contact form are also still in place, for users who would prefer written communication.
About the McMinn Law Firm, LLP
The McMinn Law Firm is an Austin personal injury and criminal defense law firm that has been operating for more than five years. The Austin personal injury attorneys at the firm try cases ranging from truck accidents to dog bite claims to wrongful death claims. The criminal defense lawyers work on misdemeanor and felony cases, including DWI cases. The firm handles claims in Austin, Cedar Park, Georgetown, New Braunfels, Round Rock, San Marcos, West Lake Hills and the surrounding areas. Its principal attorneys, Jason McMinn and Justin McMinn, pride themselves on being practical and aggressive lawyers who help their clients.
###