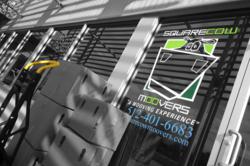 (PRWEB) January 24, 2013
Serving the Austin area since 2007, full-service moving company Square Cow Movers has discovered another way to give back to the community. Square Cow Movers will participate in the 7th annual Clear Your Clutter Day by the National Association of Professional Organizers on January 26, 2013.
The event will take place at Bethany United Methodist Church on Saturday, January 26, from 10 AM to 2 PM. The church is located at 10010 Anderson Mill Road in Austin, Texas, near 183.
According to Square Cow Movers, the purpose of the event is simple. The professional moving company has joined together with other local organizers to help community members lighten their loads by gathering clutter at this free annual event.
Each household is eligible to bring one carload of unwanted belongings. This clutter may include broken computers and electronics, documents that need shredding, women's clothing and accessories, gently used clothing and shoes, unwanted senior care items, mobility equipment, furniture, art, books, rugs, working appliances, and other junk that needs to be taken to the curb.
For safety purposes, households are instructed not to bring any flammable, toxic, poisonous, reactive, or explosive items, including paint and batteries. All unwanted items brought to the event should classify as clutter from around the house or garage that can be recycled or donated to a good cause.
Square Cow Movers, a long-standing community organization in the Austin area, is proud to participate in the event in partnership with the Austin Habitat for Humanity, The Settlement Home for Children, Junk Busters USA, Dress for Success Austin, and others.
Square Cow owner Wade Lombard reveals that he is "excited" about the upcoming weekend event as an opportunity to give back to the community. He states, "At Square Cow, we're always looking for ways to roll up our sleeves and get dirty as we get to know other residents in nearby neighborhoods. We think this is going to be a fun event that most families will enjoy. It also gives you a great excuse to clean out your garage in time for spring cleaning!"
He reminds families once again that the event is limited to only one carload per house. He adds, "Right now, this community event can only support clutter at one car per household. But for any other moving or clutter removal needs, Square Cow is happy to help families in the Austin area."
Families and individuals that want to participate in the annual Clear Your Clutter Day can register online through the official National Association of Professional Organizers website. The event is free to the public, but pre-registration will help to secure a household's spot and guarantee clutter removal.
For more information on moving in Texas, customers can visit Square Cow Movers directly. Square Cow currently provides a diverse selection of residential and commercial moving services that include extras like piano moving and pool table moving for special circumstances. Square Cow Movers uses an Austin, TX digital marketing agency, Local Surge Media, to spread their message to the online community.