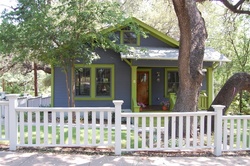 It was a complicated sale with a slightly higher than average asking price
Austin, TX (PRWEB) July 29, 2009
With their purchase of a 1920s bungalow at 500 E. Monroe St., two new Austin homeowners are proving that buyers needn't sacrifice historical integrity to live in an energy-efficient home.
"We looked at many options - old & new, remodeled and original - but couldn't turn away from 500 E. Monroe," says Austin real estate broker Brian Talley, who helped Marc and Sarah Nathan with their home search and purchase. "The Nathans like historical homes renovated to today's high standards of efficiency, and this one combines the historical integrity of the past with all of the advances of a new home."
The two-bedroom, two-bath frame house retains the style that Austin home builder Fred Malone gave it in 1923, but a renovation and expansion completed this year by local eco-builder Ultraverte imbued the structure with 21st century insulation values and energy-conserving systems. The company worked simultaneously with the City of Austin's historic preservation office and Austin Energy's Green Building program to make 500 E. Monroe the first home with a historical designation to earn the City's Five Star energy rating.
Improvements include insulating double-paned windows clad in wood to replicate the home's originals, while Energy Star appliances, a tankless gas water heater, low-flow water fixtures and high-efficiency lighting reduce energy and water consumption. Spray foam insulation and a properly sized heating and cooling system keep electricity usage to a minimum through Texas' sweltering summers, while the yard benefits from rainwater collection, drip irrigation and hardy native plants. A new master bath and master bedroom expansion boosted the home's creature comforts as well.
Efficiency was a priority for the Nathans, who share a background in renewable energy. The couple also wanted to be near retail shops on South Congress Avenue, and their Austin home search in the surrounding neighborhoods gave them an appreciation for older homes. It was the quality of workmanship that made 500 E. Monroe stand out, according to Sarah Nathan. The attention to detail required to meet energy efficiency standards carried through in the historical aspects of the project, from the carefully preserved and restored wood floors and siding to the new garage doors made to match the original design.
"It was a complicated sale with a slightly higher than average asking price," she says. "Brian Talley helped us make sure that the premiums we were paying for green features were worth the extra cost, and they were. We really like having a house with a story, and at the same time it will save on our energy bills."
Ultraverte co-owner Lindsay Yeakley ranks 500 E. Monroe among her favorite projects, one she hopes will inspire the community to integrate energy upgrades in their older homes. "I loved the idea of taking an inefficient home from the 1920s and instead of tearing it down, we brought it into the 21st century to meet the energy efficiency and water conservation requirements we're trying to meet in new homes today. It takes some work, but it can be done."
###