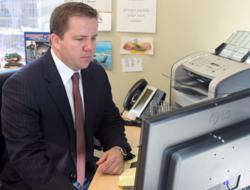 AUSTIN, TEXAS (PRWEB) November 21, 2012
Carl R. Barry, the lead partner at the Barry Law Group, has filed a lawsuit against Barcelona Bar, Toulouse Bar and a drunk driver on behalf of a 13-year-old girl who was near-fatally struck by the drunk driver's vehicle. The 13-year-old girl now requires around-the-clock care and a permanent feeding tube.
According to the lawsuit, case number D-1-GN-12-003667 in Travis County district court, the two popular downtown bars allegedly served the drunk driver until she was well past the point of intoxication (over three times the legal limit) and then allowed her to get in her vehicle and drive away. Not long after, the driver lost control of her vehicle and struck the 13-year-old while she was walking on the sidewalk with her friends. According to reports, the driver initially fled the scene after nearly killing the young girl.
"This is a travesty," Barry said. "My client, a bright, ambitious and well-liked girl, had her entire life ahead of her. Now she requires around-the-clock care and will have to be feed through a feeding tube for the rest of her life. This was an avoidable tragedy. Had these two downtown bars chose the public's safety over profit, this never would have happened. My client's life will no doubt never be the same and neither will the lives of the people who love her.
"It is the absolute duty of all downtown bars that primarily make their money through the sale of alcohol to ensure that they are not over-serving their patrons and then allowing them to drive drunk. It is our hope in this case that justice prevails."
About the Barry Law Group
The Barry Law Group is a personal injury law firm in Austin, Texas. They represent people and families that have been hurt in all types of serious accidents. Attorneys Carl R. Barry and Brett A. Burlison have more than 20 years of combined litigation experience. Both are members of the Million Dollar Advocates Forum and are Super Lawyers. Carl R. Barry has been recognized as a Texas Super Lawyer Rising Star three times in a row and was recently named as one of the Top 40 Under 40 Trial Lawyers in Texas as well as named one of the Outstanding Young Lawyers in Texas.