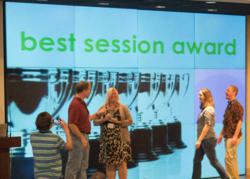 Lean Dialog Works From What You Know To What You Need.
Austin Texas (PRWEB) October 31, 2012
CabForward, known as the leading training resource for Ruby on Rails in Austin Texas, is accepting applicants for its award winning Lean Dialog classes. Through its partnership with the Cospace Learn Program, Lean Dialog will be taught as a 3-part framework in a single session Saturday November 17, 2012.
Lean Dialog was built to provide entrepreneurs an objective validation for a product. The first step utilizes the familiar Lean Canvas model developed by Ash Maurya to match the product to the customer. The second step follows the scientific model to test and validate the business concept. The third step refines all available information to the most important features required for success.
This opportunity analysis tool quickly validates a product idea using lean concepts. Since its creation in May, Lean Dialog has received praise from small business, new business, investors, and educators. The Lean Dialog team of PJ Christie, Erica Scassa, and Vicki Flaugher was awarded Best Session at Product Camp 9 in Austin earlier this year.
Lance Vaughn, Founder and CEO says, "At CabForward we focus on the health of not just the app, but of the end user (our customer's customer) with the intention of delivering a valuable tool for our customer. We have positioned ourselves to be an extension of our customers, the partner they count on as they grow."
CabForward created Lean Dialog to be an influential part of the Austin business community by creating conversations between recognized experts. This conversation answers the following questions:
1. Who is your real audience?
2. What is the real need you satisfy?
3. What are your assumption risks?
4. What scientific based experiments can test your hypotheses?
5. How will you prove (or disprove) your product idea?
Our Team:
PJ Christie is an entrepreneur, musician, and marketer. As Director of Customer Development at CabForward PJ is a partner to his clients' success. He brings a 360 degree strategy to each engagement integrating the Lean "Build – Measure – Learn" cycle to software and users. His experience ranges from startups to global brands and everything in between. He believes that technology is best leveraged by creative professionals first, guided by their individual urges and ability to find an early audience of support.
Erica Scassa is the Lead Lean Practitioner on CabForward's Customer Development team. She's also their resident scientist, championing lean principles in software development and deployment. Her specialties include experiment modeling, root cause analysis, and value stream mapping. Before CabForward, she led the lean implementation for the nucleotides department at Pierce BioTechnology.
Vicki Flaugher is a digital strategist with a 10+ year background in lean manufacturing, process analysis, and digital branding. She brings the marketing voice to the conversation, ensuring your idea has the legs it needs to reach the right audience via social and your web presence, sooner rather than later.
CabForward builds and deploys rugged web, mobile and social applications using the latest proven technologies such as Ruby on Rails and iOS. Their team has grown from two to over twenty developers in 2012, all based in Austin, TX. CabForward is a thought leader in customer-driven product development and rugged application design. For more information, visit cabforward.com.