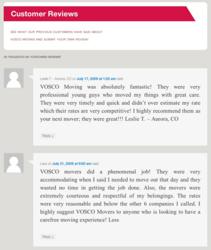 Vosco takes the pain out of moving without costing a fortune
Austin, Texas (PRWEB) July 05, 2012
This was announced by Kaleb Coleman, co-owner of Vosco, who said that the company recently received a lot of glowing reviews from customers and clients. These positive reviews have put them at the head of the pack of other movers in terms of online reviews and reputation.
After Google updated its rating system recently, Vosco got a score of 27 out of 30, making it 97% higher than all other companies online. The good news came at a time when Vosco, one of the most popular Austin Movers, just completed another wise move – opening its second branch in Austin. With two locations, the company can now serve even more people who are looking for a stress-free way to move.
As Coleman explained in his short YouTube video (see side bar) , moving can be a painful experience with the wrong kind of movers. At the wrong hands, your precious things could be destroyed and valuables can be lost, giving you a lot of headaches and heartaches.
Vosco takes the pain out of moving without costing a fortune. Its professional moving services and dedicated staff ensure that your things are moved safely and quickly at the place you want them to be. Whether you're moving from Austin or within Austin, Vosco will help you with your residential or commercial move. Packing boxes and storage facilities are also provided.
About the Company:
Based in Austin, Texas, Vosco Moving Austin LLC offers a wide range of services that include furniture moving, piano moving, residential moving, apartment moving, office and business moving, auto transport, packing-boxing, unpacking and unloading, and just about any other service for Austin movers. For more information, visit http://www.voscomovingaustin.com/.