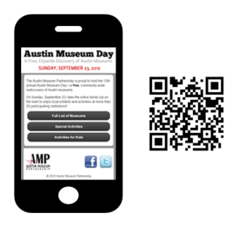 The Austin Museum Day 2012 Mobile Guide is a great example of what can be accomplished when the subject-matter expertise of an organization like the Austin Museum Partnership is empowered by an easy-to-use software product like Immediatag.
Austin, Texas (PRWEB) September 21, 2012
The Austin Museum Partnership (AMP), a non-profit consortium of Austin-area museums, and Immediatag, LLC, developer of the Immediatag mobile tagging platform for business, are excited to announce the launch of the Austin Museum Day 2012 Mobile Guide. The Mobile Guide is a free mobile-optimized website designed to help museum visitors plan their Museum Day 2012 activities on the go.
As in past years, AMP is promoting Austin Museum Day with an insert in the Austin American-Statesman, the leading Austin daily newspaper. But this year, given the popularity of mobile devices, AMP decided to supplement the print insert with a mobile guide that allows visitors to plan their day using a smartphone or tablet. For assistance, they turned to Immediatag.
The official Austin Museum Day 2012 Mobile Guide features:
-- A guide homepage that serves as the main portal for exploring the participating institutions and the activities available throughout the day.
-- Individual category pages presenting participating institutions in smaller groups designed to appeal to visitors looking for specific types of activities (e.g., activities for kids, activities at night or outside, activities close to where they live).
-- Access via a direct link (http://amp.immediatag.com/museum-day-2012-mobile-guide or http://goo.gl/jLC5p) or via a QR code placed in several key locations in the newspaper insert.
-- The little touches that matter in mobile—one-tap phone numbers and maps, a navigation bar for moving quickly from one page to another, and more.
Since its public release on September 20, the Austin Museum Day 2012 Mobile Guide has already been accessed via scan over 360 times.
ABOUT AUSTIN MUSEUM DAY
Austin Museum Day is a free, community-wide rediscovery of Austin museums on Sunday, September 23. More than 30 of Austin's most popular cultural institutions are opening their doors for free to visitors of all ages.
In addition, over 20 institutions are offering special activities, including:
-- Hands-on activities for children and families at various locations including the Austin Children's Museum, Blanton Museum of Art, and the Visual Arts Center.
-- A meet-and-greet with women scientists at the Lady Bird Johnson Wildflower Center.
-- A celebration of life at Mexic-Arte Museum's annual Day of the Dead exhibition.
-- Live music at the Texas Music Museum.
-- A healthy MamboBerry treat onsite at AMOA-Arthouse at Laguna Gloria.
ABOUT THE AUSTIN MUSEUM PARTNERSHIP
The Austin Museum Partnership is a consortium of Austin-area museums organized in 1998 to promote collaborations for the mutual benefit of the public and the museums.
The membership includes art and science museums; historic sites and history museums; nature preserves, natural habitats, and botanical gardens; the University of Texas library and art repositories; a children's museum; a museum about Texas music; and the spectacular Texas State Capitol.
For more information about the Austin Museum Partnership, please visit http://www.austinmuseums.org/.
ABOUT IMMEDIATAG
Immediatag, LLC is a software developer based in Austin, Texas.
Our first product, the Immediatag mobile tagging platform for business, features a mobile content management system that allows businesses to create high-quality, media-rich mobile landing pages and other types of mobile content—quickly and with no programming required. It also features management tools for creating and organizing bridges (such as QR codes) that connect customers in the real world to engaging, relevant mobile content in the digital world.
For more information about Immediatag, please visit http://immediatag.com.