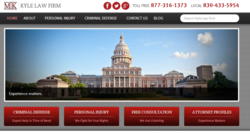 New Braunfels, TX (PRWEB) October 18, 2012
The Kyle Law Firm has implemented a new design for its website that will allow visitors to have an optimal experience on the site, regardless of screen size or device being used to access the site.
The New Braunfels personal injury law firm decided to make the change to this new mobile-friendly design after noticing the increase in traffic to its website through mobile devices, such as smartphones and tablets.
"Most of our clients find us through the Internet, and, increasingly, they're finding us on a smartphone or tablet," said Matt Kyle, the lead attorney at The Kyle Law Firm. "Once we recognized this trend, we knew we had to provide visitors with a good experience regardless of the device they're using to find our site."
The site still features some of the most convenient functionalities of the old design, including easy contact forms, the legal blog that discusses personal injury and criminal issues in the Central Texas area and Web pages discussing different personal injury and criminal defense cases that the firm handles. To read about these cases, click here.
As an extension of the Kyle Law Firm's effort to make its website easier to use, the firm's three locations are easier to find with the addresses listed at the bottom of the home page and maps on the "Contact Us" page.
This move toward responsive design will result in a better user experience for visitors to The Kyle Law Firm's website. The firm's move is kicking off a trend of attorneys around the country using responsive design to provide better mobile access for their users.
About The Kyle Law Firm
The Kyle Law Firm is a personal injury and criminal defense firm in New Braunfels, Seguin, San Marcos and Austin, Texas. Matt Kyle, the firm's founding partner, has been representing clients in Central Texas for the last 20 years. He was named a Texas Monthly Super Lawyer in 2011 and 2012 and the firm has been chosen as a newspaper readers' favorite for Best Law Firm in New Braunfels three years running.
###