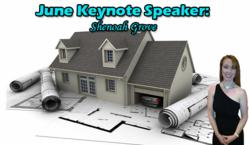 Austin, Texas (PRWEB) June 19, 2013
The Austin Real Estate Networking Club (Austin RENC) will be hosting its monthly meeting this Thursday night, June 20, 2013, from 6-10pm at the Norris Conference Center. The Norris Conference Center is located at 2525 Anderson Ln, Austin, Texas, 78757. If this is your first Austin RENC event, then you can register for free here: http://www.austinrenc.com/free-ticket-June-2013
The keynote speaker will be Club President Shenoah Grove. Mrs. Grove is a Texas real estate investor who is also President of the largest real estate networking club in Austin (Austin RENC). Since 2003, Mrs. Grove has participated in more than 1,200 real estate transactions totaling more than $200M using a variety of investing techniques.
Her passion is finding solutions that work in today's post-bubble real estate market. When the market changed, she re-thought her strategies to be a more effective problem solver.
"What we'll do is go through a live negotiation with a seller (Mr.s Grove) and a buyer (guest) to show everyone what questions to ask and how to think through and negotiate a deal," says Mrs. Grove. "We perform this 'drill' during many of our live trainings and it's very popular with our students. I am excited to see how this interactive workshop works during our club meeting."
Tickets to the Austin Real Estate Networking Club are free for first time attendees and you can register by going here: http://www.austinrenc.com/free-ticket-June-2013