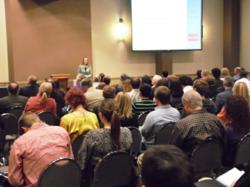 Austin, Texas (PRWEB) February 23, 2013
The Austin Real Estate Networking Club, or Austin RENC, set an all time attendance record Thursday night with 155 attendees at the Norris Conference Center. Club President and featured speaker Shenoah Grove presented her Real Estate 'State of the Union' Address.
"We typically average between 110-120 local real estate investors at each of our events," said Mrs. Grove, who is also the owner of local Austin Real Estate investing company Hippie Hollow Homes. "So tonight's turnout was a big boost for us."
Phill Grove, national speaker, real estate trainer and local investor, led off the meeting with his Real Estate 101 presentation and answered questions from some in the audience about real estate marketing and specific strategies. Then he introduced Mrs. Grove.
Mrs. Grove started the evening by having the members take an 'Investors Oath'. With the economy and real estate market improving, there will be many more wholesale / fix and flip opportunities coming up and she wants everyone in the club to be focused on doing the right thing.
After the oath, Mrs. Grove introduced a new Community Advisory Board. The purpose of the board is to advice newer investors on the legitimacy of market value and to answer questions they may have about a potential deal.
"Too many newer investors receive bad information about market values through comps," continued Mrs. Grove. "I've had people present a market comparison to me with only 4 comps and when I did my own due diligence, I was able to find 30 more comps and a difference in after repair value of $20,000 less! The purpose of the board is to help advise new members of what the real comps may be and prevent someone from investing in a bad property."
Some of the members of this Community Advisory Board include Tommy, Jana, and Cyndi Gills, John Waltrip, Chereen Fisher, Debbie and Jenna Gallen, Buddy Henderson, and Bill & Elaine Flemming.
Mrs. Grove then discussed the state of the Austin Real Estate Market.
After the presentation, members from the club pitched their deals in front of the audience. Afterwards, the 155 members engaged in networking.
The goal of Austin RENC is to educate and get their members the most accurate and up-to-date information about what's going on in the Central Texas real estate marketing and inform on what's working in today.
The next Austin RENC meeting will be on Thursday, March 21, from 6-10pm and feature local SEC Attorney Roland Wiederaenders, who will be presenting on 'How to Raise Capital Without Going to Jail'. For more information on Austin RENC, please visit here.