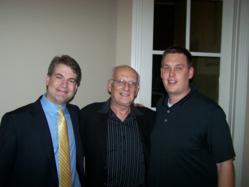 Real estate investors who are able to take advantage of my proven social media marketing system will receive an abundance of word of mouth marketing results online
Austin, Texas (PRWEB) July 18, 2012
The Austin Real Estate Networking Club (Austin RENC), the largest real estate network in Central Texas, is hosting its monthly meeting this Thursday, July 19, at the Norris Conference Center from 6-10pm. The featured topic will be 'How to Utilize Social Media for Your Real Estate Marketing". The featured speaker will be Black Box Social Media Co Founder Curt Maly.
"97% of real estate professionals rely on word of mouth referral for their marketing," says Curt Maly, who's company has recently written a chapter on social media marketing in an upcoming Dan Kennedy book titled 'Marketing Miracles'. "Real estate investors who are able to take advantage of my proven social media marketing system will receive an abundance of word of mouth marketing results online. On Thursday, I will detail my process on how to attract more real estate customers through social media than you ever thought possible."
For more information on Black Box Social Media, please visit http://blackboxsocialmedia.com/media-page/
Austin RENC is designed to educate and get their members the most accurate and up-to-date information about what's going on in the Central Texas real estate marketing and inform on what's working in today. The first hour will of the event will feature Phill Grove, creator of the All In One Done For You real estate program, presenting an intro to real estate presentation. The rest of the evening will include Curt Maly's social media marketing presentation as well as networking.
"Black Box Social Media's system has worked for many real estate investors," says Mr. Grove, owner of Austin real estate companies Love American Homes and Hippie Hollow Homes. "Their system was featured in my REI Marketing Machine and has assisted hundreds of investors from all over the U.S. on how to use the Internet to obtain leads. You can't afford to miss this Thursday nights presentation."
The event location is the Norris Conference Center, located at 2525 Anderson W. Anderson Ln. For ticket information, please visit http://www.meetup.com/AustinRENC/events/71165032/