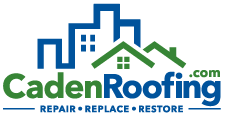 Austin, TX (PRWEB) June 17, 2013
Caden Roofing has launched a new website to provide customers with a better mobile experience.
The Austin roofing company's goal was to help customers understand what makes the company different from other roofing companies. To do this, they included a visualization on their home page of their four promises to customers: no surprise pricing, clean property promise, community responsibility and environmental stewardship.
The four promises mean that what customers pay is clear, consistent and won't deviate from the estimate; the roofing team will leave every property as clean as they found it; Caden Roofing only hires professionals and provides them with a living wage; and the company will support the environment by helping customers choose roof repair over replacement when possible.
"I think this site does an excellent job of helping our customers understand what their options are when it comes to roof replacement, repair and restoration," said Fareed Tulbah, the CEO of Caden Roofing. "Our goal is to make roof replacement or repair as easy as possible for the home or business owner, and our new website helps us do that by simplifying information as much as possible."
To learn more about Caden Roofing, click here.
About Caden Roofing
Caden Roofing is a roof repair and replacement company in Austin, Texas. The company provides both residential and commercial roofing services in Austin and the surround area. Caden Roofing's team of roofing professionals has more than 30 years of experiencing providing new roofs to families and businesses across the state. A Better Business Bureau accredited business, Caden Roofing prides itself on its four main values: no surprise pricing, clean property promise, community responsibility and environmental stewardship. The roofing company also offers schedule maintenance plans to help home and business owners extend the life expectancy of their roof.
###