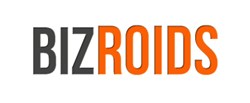 With our new web site and new logo, we are confident that our marketing message is clear, easy to understand and most importantly will be of more help to small business owners
Austin, TX (PRWEB) August 20, 2013
Bizroids has recently unveiled their new web site and logo, both designed to better engage with small business owners who visit Bizroids.com looking for information and advice on how to better manage their company's online presence.
"For the past couple of years, we've been the the equivalent of the mechanic with the broken down car in terms of our own web site", says Bizroids owner Brian Gomez. "We've just had so many projects going on, we haven't really had time to focus on our own web site, and in effect, our own lead generation. We've been relying on offline and word of mouth referrals and like we tell our prospective clients all the time, we were losing money as a result. So now with our new web site and new logo, we are confident that our marketing message is clear, easy to understand and most importantly will be of more help to small business owners"
Bizroids new web site includes a site evaluator report that allows web site owners to submit their URL on the home page and in return, receive a detailed SEO report free of charge that will show the user actions items that are needed to achieve its online goals.
In the coming months, Bizroids will be redesigning their free online business directory, article directory and creating a directory for infographics for their clients to post, market and share their content on.
Bizroids provides search engine optimization, web design, pay-per-click management and social media consulting as part of a comprehensive inbound marketing solution. They work with small businesses in various industries including legal, medical, construction and real estate.
Visit the new site at http://www.bizroids.com