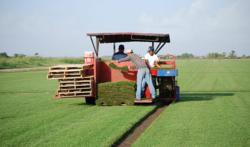 AUSTIN, TEXAS (PRWEB) February 26, 2013
The Grass Outlet, a direct-from-farm Austin turf grass store, has launched a new website complete with the ability to order sod grass online and tips for maintaining a new lawn.
Visitors to the website can look through The Grass Outlet's 10 varieties of grass and even filter their results by factors such as mowing height, required mowing frequency, drought tolerance, fall color retention, spring green up and shade tolerance. People can also read about the different varieties to choose a grass with the texture and shade they want.
"We're excited about this website," said Mike Piwonka, the CEO of The Grass Outlet. "With our new site, we'll be able to help more people across the state get the high-quality sod grass they need to grow a beautiful lawn. Visitors to our site can use our filtering features to narrow down their turfgrass search and choose the type of grass they want the most."
Once visitors to the site are prepared to purchase sod, they can use The Grass Outlet's innovative sod grass calculator, the Grasstimator, to determine exactly how many pallets of sod they need.
After a visitor orders grass, The Grass Outlet will harvest the grass from the family's farm and deliver the grass to the purchaser's house, ensuring freshness.
The Grass Outlet also provides an extensive section on turfgrass maintenance on their website so buyers can learn how to prepare their yard for the installation of sod, how to plant the sod, when to mow, water and fertilize and how to manage common lawn problems.
About The Grass Outlet
The Grass Outlet is a direct-from-farm sod grass store headquartered in Austin, Texas. The Grass Outlet provides fresh, high-quality grass to homes and businesses in Austin, Dallas, Houston and San Antonio direct from its farms along the Texas Gulf Coast. The store is able to ensure that customers receive the freshest grass available by harvesting grass from the farm on an order basis only. Customers can choose from 10 varieties of turfgrass, including two St. Augustine varieties, Density Buffalo, three varieties of Bermuda grass and four types of Zoysia.
###