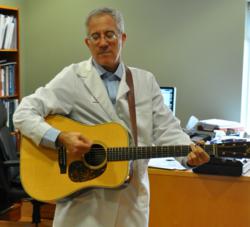 Musicians are part of the heart and soul of this city.
Austin, TX (PRWEB) August 08, 2012
Throughout the month of August, Dr. Steven Zimmet will be donating $1 to the Health Alliance for Austin Musicians (HAAM) for every one "Like" that he gets on his Facebook page, Zimmet Vein and Dermatology.
Dr. Zimmet, a leading provider of spider vein treatment in Austin, chose to donate money to HAAM because it represented an intersection between his work life and one of his hobbies, playing the guitar with his son.
The Zimmet Vein and Dermatology website and Facebook page both feature photos of Dr. Zimmet playing his guitar at his office.
"Musicians are part of the heart and soul of this city, and it's important to keep them healthy," Dr. Zimmet said. "Without our musicians, Austin just wouldn't be the same. The town wouldn't be as exciting of a place to visit or live if it weren't the Live Music Capital of the World."
HAAM was founded in 2005 to provide access to low-cost health care for Austin's uninsured musicians. Since then, it has helped 2,700 musicians access health care appointments.
About Zimmet Vein and Dermatology
Zimmet Vein and Dermatology is a full-service dermatology clinic in Austin, Texas that has been in operation since 1996. Dr. Zimmet provides body sculpting, cosmetic dermatology, including CoolSculpting and Botox, and vein and spa services. He also provides Austin vein evaluation services. He was a winner of the 2011 Patient's Choice award, is in the Best Doctors of America database for 2011-2012 and has been named a premier medical expert by HealthTap.com.