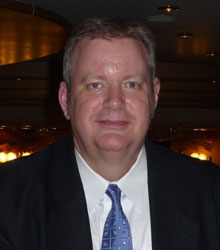 Who can wait almost two years for a decision on the benefits that many need just to live their daily lives? No one should have to, and certainly not our distinguished veterans.
Austin, TX (PRWEB) April 26, 2013
The Department of Veterans Affairs and the federal government must do more to speed up the process for approving disability benefits for the nation's veterans, Texas disability benefits attorney Don R. Cotton said today in response to a series of recent news reports that called attention to lengthy backlogs at the VA.
"Disabled veterans deserve better treatment from the nation they served," said Cotton of The Bob Richardson Law Firm, a disability benefits firm with offices in Austin and Waco. "The nation's disabled veterans need and deserve a quick resolution when they file for benefits, but many are waiting months and even up to a year or more for a decision, impacting their quality of life at a precarious time."
Cotton cited a recent article in the Washington Times that said the VA has a backlog of nearly 1 million unprocessed claims for veteran's benefits, and 630,000 of them have been pending for more than 125 days.
"Long waits for benefits decisions are completely unacceptable," Cotton said. "We have thousands of veterans who have recently returned from war, many with indescribable injuries. The government must redouble its efforts to streamline the benefits decision process for these disabled veterans and get them the benefits they deserve."
Officially, the VA says the average wait time for a decision on an application for benefits is 273 days. However, a Centers for Investigative Reporting article cites an internal VA document indicating that the average wait time is closer to 320 days, while applicants in some large metro areas wait as long as 642 days on average.
"Who can wait almost two years for a decision on the benefits that many need just to live their daily lives? No one should have to, and certainly not our distinguished veterans," Cotton said. "The government must find ways to do this faster."
The VA has asked veterans to be patient while it works it way through the backlog, pledging to modernize systems and have the process running smoothly by 2015.
The media has published several reports of the backlog in the last month. On April 16, Secretary of Defense Chuck Hagel told members of Congress that he is personally committed to solving database interoperability issues between the Defense Department and the VA that have contributed to the processing delays. On April 19, the VA announced in a press release that in addition to the modernization plan to clear the backlog by 2015, it will expedite decisions for veterans who have been awaiting a benefits decision for more than a year by making provisional decisions on the oldest claims in the department's inventory.
"While it is good that these government agencies are recognizing the problem, it's too bad it took this kind of publicity for them to begin to take action," Cotton said. "The VA and the Department of Defense must continue to look for better ways to speed up the claims process."
Cotton reminded veterans that working with a qualified attorney can help make the claims process run more smoothly by ensuring that forms are filled out and filed correctly and that the proper medical documents are included.
"At The Bob Richardson Law Firm, our lawyers have the knowledge to guide you through the process of filing a veteran's disability claim and give your claim the best chance for approval from the start," he said. "We can also help veterans whose claims have been denied or who have received inappropriately low disability ratings."
About The Bob Richardson Law Firm
The Bob Richardson Law Firm is a highly respected Texas law firm that assists clients with veteran's benefits claims, as well as personal injury lawsuits and claims for Social Security disability benefits. Our experienced attorneys handle cases involving car accidents, motorcycle accidents, truck accidents, construction accidents, workplace accidents and slip-and-fall accidents, as well claims for VA disability compensation, SSDI benefits and SSI benefits. The firm features offices in Austin and Waco and assists clients throughout Round Rock, Georgetown, Killeen, Temple, Cedar Park, Lakeway, Taylor, Belton and surrounding Texas communities. The firm's principal office is located at 812 San Antonio St., Suite 300, Austin, TX 78701 (local phone (512) 472-5100). To learn more about The Bob Richardson Law Firm, call (800) 880-5100 or fill out the firm's online contact form.