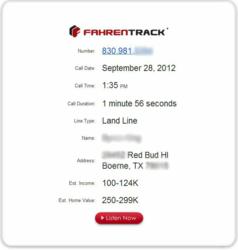 Austin, Texas (PRWEB) October 01, 2012
Fahrenheit Marketing has added a powerful new service to its offerings: Click to call website capabilities that integrate with Fahrenheit Marketing's call-tracking software, FahrenTrack.
The click to call service works through a button overlaying the website upon arrival. When visitors click the button, they are prompted to provide their phone number. The system automatically calls the number provided and connects the caller to the business's phone number.
So far, businesses that have integrated the click to call technology into their websites have seen their calls from website traffic increase to 200 percent of the call traffic before the implementation of the new technology.
"The button makes the process of calling a business easier, but it also focuses visitors to the next logical step after visiting a website, calling the business," Fahrenheit Marketing CEO Ricardo Casas said. "And paired with our call-tracking system, the conversions and insights this service can provide should be very valuable to companies."
FahrenTrack packages a recording of the call with important information about the caller, such as the caller's name, address, home value and estimated income. Using FahrenTrack, managers can better understand the quality of calls and call service, as well as understand which promotions are garnering the most calls.
Fahrenheit Marketing's click to call service and FahrenTrack service come as part of a monthly package, which is tailored to suit each business's needs, but often includes services such as Austin web design, search engine optimization and social media management.
FahrenTrack can also be purchased a la carte at $125 per month for the first line and $49.99 per month for each additional line.
About Fahrenheit Marketing
Fahrenheit Marketing is an Internet marketing firm in Austin, Texas. Since 2008, it has provided a full range of marketing capabilities from search engine optimization to call tracking and conversion management for a variety of clients. Its employees are passionate about digital marketing and constantly innovating in their fields.
###