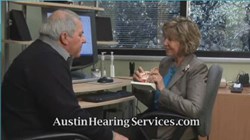 Austin, TX (PRWEB) May 04, 2013
Leading Austin TX audiologist and hearing aids specialist Austin Hearing Services has added a new section to their website to showcase hearing aid and hearing loss testimonials gathered from local residents. This new web page, will present the stories of past and current patients dealing with sensorineural hearing loss, conductive hearing loss, hyperacusis, tinnitus and other hearing challenges. All of the videos appearing on the hearing aid reviews page may also be viewed on Austin Hearing Services YouTube channel such as this video where the patient describes the importance of selecting an audiologist that provides personalized solutions. He selected Dr. Margaret Hutchinson for his hearing aids in Austin after extensive research because his ability to understand detailed conversations in a noisy environment is critical to his job.
Dr. Margaret Hutchinson is pleased to present this new addition observing that it is extremely helpful for potential patients to see themselves in the experiences of other people. Americans with hearing loss need to know that they're not alone in their attempts to find solutions. Solutions such as hearing aids are available. Austin Hearing Services is hopeful that website visitors will find common experiences and a sense of community on the brand new reviews page.
People browsing the testimonies on the website are reminded to not try a self-diagnosis as there are a large number of distinctive reasons for hearing problems. Only a professional audiologist can correctly assess symptoms such as ear pain, buzzing in the ears or hearing loss. Finding the underlying hearing loss cause typically begins with a comprehensive hearing test and physical exam of the ears. The solutions that have been successful for the other individuals included on the testimonials page, won't be applicable in all cases.
About Dr. Margaret Hutchison, Au.D.
Dr. Margaret Hutchinson received her Bachelor of Science (BS) degree in Biological Sciences from Southern Illinois University and a Master of Science (MS) degree in Communications Disorders from the University of Texas at Dallas. She completed her doctoral studies at the University of Texas at Dallas earning a Doctor of Philosophy (PhD) in Human Development and Communications Disorders in 1996. Dr. Hutchinson has multiple publications in the field of audiology and is a frequent conference speaker. She has been cited in Notable Women of Texas and Who's Who In Science and Engineering. The American Academy of Audiology honored Margaret with the Academy's Scholar Award in 2011. She is Board Certified in Audiology and a member of the American Auditory Society, the American Academy of Audiology, the American Speech and Hearing Association, the Academy of Rehabilitative Audiology and the Society for Neuroscience.
About Austin Hearing Services:
Austin Hearing Services was founded in 1999 by Dr. Margaret Hutchison. Austin Hearing Services has provided hearing aids in Austin TX and its surrounding communities for several years. The company offers a full range of diagnostic and preventative hearing healthcare professional services, including hearing aid screening, evaluations, hearing aids sales and rehabilitative and preventative counseling. The staff is dedicated to keeping abreast of the latest improvements in technological advancements in the hearing industry and is committed to offering the most current options to patients.
Contact:
Dr. Margaret Hutchison
http://austinhearingservices.com
Austin Hearing Services
6805 North Capital of Texas Highway #265
Austin, TX 78731
(512) 851-0871