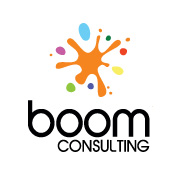 We love creating stunning websites that help our clients stand out from the competition.
Austin, Texas (PRWEB) January 31, 2012
Boom Consulting, an Austin, TX-based web development and marketing firm, is launching an all-new website at BoomConsulting.com that is a prime example of the firm's engaging, techno-forward brand. With a focus on interactive features, clean design and eye-catching graphics, Boom Consulting has created a showpiece where prospective clients can experience the firm's creative integration of form and function in real time.
Dynamic, visually appealing web design optimized for mobile devices as well as traditional PCs, knowledgeable internet marketing strategies and search engine optimization (SEO) are just a few of the in-house services that the passionate team at Boom Consulting has been deftly but quietly providing since 2004.
No smoke or mirrors necessary: Boom Consulting delivers clean functionality with a unique aesthetic web design crafted from the ground up. Template-free, custom designs reflect individual business branding, not that cookie-cutter format that makes the majority of websites blend into the online wallpaper.
Now, businesses can tap into the expertise of this Austin web design, development, and internet marketing company as they publically launch their services. With more than 45 years of combined experience cultivating unique, highly functional web presences for a clientele that ranges from Fortune 500 firms to kitchen table start-ups, Boom Consulting's small but multi-talented staff covers all of the angles of comprehensive web design, web development, content management, internet marketing, SEO, social media marketing and paid placement advertising.
Boom Consulting's new look reflects the online milieu at large, which is undergoing a technological explosion. Most developers are scrambling to keep pace with a host of new applications spawned by the exponential expansion of the mobile market. To remain competitive, web designers must follow a learning curve of new techniques for designing web pages that maintain scale and appeal across a constantly growing spectrum of devices.
Boom Consulting is already there. According to founder Curtis Sund, "We love creating stunning websites that help our clients stand out from the competition. We develop complex, data-driven websites that optimize user engagement, drive traffic and revenue, plus automate business processes."
As any online business executive quickly discovers, just establishing a website is not enough. Even the most dazzling web presence is irrelevant unless effective internet marketing strategies for driving traffic to the URL are in place.
"You want an engaging website that empowers your business," explains Sund. "In today's online environment, it is critical to make your website a living document that is flexible and responsive." Boom consultants actively manage content and SEO accordingly to keep the website fresh and at the top of search results.
However, the savvy web masters of Boom Consulting don't stop there. They have the know-how to effectively broaden a website's outreach through social media marketing, currently one of the hottest online advertising venues. The Boom Consulting team can map out additional inroads for taking a business as far as it elects to go with options such as paid placement advertising.
For online retailers who are reaching for market share in an increasingly competitive international marketplace, Boom Consulting can customize an integrated program that supports its e-commerce web development services, connecting with clients on their own terms wherever they happen to be going. With the addition of CRM – Customer Relationship Management – functions, such as social sign-on, Boom Consulting provides full-circle, full-service online solutions.
About Boom Consulting
Boom Consulting is an Austin web design, SEO, web development, and internet marketing firm focused on making our clients stand out from the competition. Whether your business needs to get noticed on search engines, build brand awareness, generate new revenue streams, save money, or achieve other positive results through your website, Boom Consulting is the integrated marketing partner you need. Contact us at 512-609-0022 or boomconsulting.com to see how we can build your web presence, improve your bottom line and make your phone ring.
###