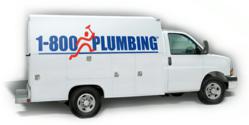 The number that means business
Austin, Texas (PRWEB) October 26, 2012
Daniel Smith founded Excalibur Plumbing in 2010. With 14 years experience in the trade, Smith grew his company rapidly to 15 service trucks. The company provides service in Travis County and is now expanding into the Williamson County area. Excalibur Plumbing provides all residential plumbing services with a specialty in both water heaters and leak detection. The company offers top rate service with a 2 year parts and labor warranty on all work and the Round Table Membership Preventative Maintenance program offers customers peace of mind by catching problems early on before becoming an emergency. Consumers should also note that Excalibur Plumbing employees are screened and tested for security and drug related issues because the company cares about the customer.
Smith realized that it can be a challenge to attract new customers, so the decision was made to integrate the "1-800-PLUMBING" number into advertising and marketing strategies to increase the effectiveness of campaigns. The easy to remember number is a great strategy to maintain customer loyalty and eliminate search. Smith stated, "I wanted the number because it makes it easy for customers and I also didn't want any of my competitors to have it." Smith immediately realized the true potential of 1-800-PLUMBING and also knew that since it is exclusive by location that no one else in the area will be able to use it.
Excalibur Plumbing plans to utilize the number on shirts, hats, service vehicles, invoices, etc. By providing a consistent message across all forms of marketing and advertising with the 1-800-PLUMBING number, logo, and radio jingle, Excalibur Plumbing will be effectively building the 1-800-PLUMBING brand in both Travis and Williamson County and created top of mind awareness that is a crucial element in effective marketing and advertising.
1-800-PLUMBING is based in Surprise, AZ and has licensees all over North America.
Website is: http://www.800plumbing.com