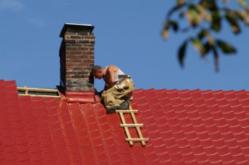 We're Better on Top!
Austin, TX (PRWEB) October 29, 2012
It doesn't take a dose bad weather to damage a roof on a commercial structure. Weather good or bad takes it's toll on the surface that protects a building. Without sturdy roofing, rips and tears can cost you loads of money in repairs, and water damage and leaks can ruin merchandise while driving customers and employees out of a commercial building. For a good solution to these roofing concerns you should consider the Austin Commercial Roofing Contractor. This free inspection and commercial roof analysis is for a limited time only.
A commonly acceptable commercial flat roof option in Austin is PVC. PVC roofing comes with a bundle of benefits. For starters it is a great long-term investment. With an extremely durable material you get the best resistance to tears and punctures in your roofing so that you will almost never have to repair it. The nature of the design is ideal with fewer seams to keep the water out better. Less seams means a reduced number of places that water could possible seep through. Fewer seams also make for easy installations with less required labor. Even if your roof ends up suffering from damage for some reason or another, repairs are easier than ever to carry out, as well as cost-effective. Maintenance-free for all intents and purposes, PVC roofing is a smart investment for your commercial flat roofing.
Ideal for either brand new construction projects, the restoration of a building's roof, or a complete reroofing, TPO flat commercial roofing is effective yet easy to implement on any roof. With extremely light weight material, construction is made easier which leads to faster and less labor-intensive work. TPO roofing has wide sheets rather than groups of small ones which does two things. First, it enhances the ability to keep water out effectively, and second it makes it easier for less people to do the same area of roofing in the same amount of time that a larger group would finish it if installing a different type of roofing. This type of commercial roofing is super strong making it resistant to punctures, tears, and wind uplift.
The many benefits of EPDM commercial flat roofing can help you feel better about having durable, sturdy, and effective roofing system. The architecture of EPDM commercial roofing has been made specifically for excellent waterproofing, ensuring that everything in your business from your merchandise to your employees stays safe and dry. Rest assured that once EPDM roofing has been installed, you will not have to deal with damages and repairs for a very long time as the material itself is quite strong. When punctures or tears do happen to occur for whatever reason, repairs are insanely easy and will not require much labor, saving you money. EPDM roofing is made of easily manipulated and flexible ingredients. The result is commercial roofing that can be put over just about any and every structure.
The benefits of a sturdy, leak-free, roof are endless. From keeping owners and customers safe and dry, to protecting inventory and equipment, a roof is the necessity for the security of both. Austin Commercial Roofing Services are an invaluable attribute to the success of any business, far beyond what you might expect. Roofing decisions are often overlooked and seen as 'unimportant' when it comes to making 'important' business decisions, but if a roof that is poorly installed by non-professionals, the result will be huge financial losses due to leaks, water damage, and if the proper material is not used, from damage to your roof as well.
Austin Commercial Roofing Services offer expert advice and help when it comes to material selection, design, installation, maintenance checks, and repairs for your business's roof. Material selection is a vital aspect of your roof's success because certain materials hold up better than others in certain weather conditions and temperatures. Many options are available including EPDM, TPO, and PVC roofing and each has various benefits. Whether you want your roof to be Energy Star qualified, last 100 years, or both, commercial roofing services will help you make the right decision.
Don't put it off any longer, This is a limited time offer. Your free roof inspection and analysis awaits. Austin Commercial Roof Repair - Serving the areas of Austin, Oak Hill, Dripping Springs, Lakeway, Bee Caves, Spicewood, Round Rock, Georgetown, Pflugerville, Salado, Cedar Park, Leander, Lampasas, Kyle, Buda, San Marcos, New Braunfels, Lockhart, Luling, and spaces inbetween.