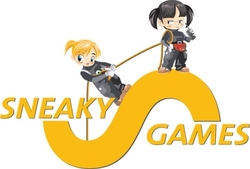 We live and breathe this stuff
Austin, TX (PRWEB) September 16, 2009
Sneaky Games, Austin-based game development studio, recently released the latest edition of its newsletter - the 'Sneaky Peek' - which included new research findings from a survey the company developed called, "Advergaming Knowledge."
The data collected from respondents yielded three recommendations for anyone interested or involved in advergaming.
Survey respondents were either marketers or developers who might work on an advergaming campaign while 56% of the sample was composed of consumers interested in advergaming.
Sneaky Games conducted the research because it wanted to gain an outsider's perspective. "We live and breathe this stuff," said David Godwin, President and CEO of Sneaky Games. "We wanted to better understand the depth of knowledge out there so we could apply those learnings to better server our clients."
Respondents were recruited either through a pay-per-click campaign or directly invited to participate through email. The survey was a short one - just six questions - but the results are nonetheless revealing.
Because the respondent pool was generally knowledgeable about the intersection between gaming and advertising, it is not surprising that 59% of them indicated that they had previously played a video game that was sponsored by or featured a real world brand.
Perhaps the most significant findings revolved around the question which asked participants to indicate the most important element of a successful advergame; 63% of the sample either chose "How fun it is" or "Ensuring the advertising doesn't obstruct the game play." The same question, when viewed through the filter of players vs. non-players, is even more interesting. While 33% of the entire respondent universe selected "How fun it is," 50% of those who'd played an advergame before chose it as the most important element.
The advergame statistics generated from this research supported the following three conclusions. First, because playing advergames seemed to change a respondent's perspective, those interested in using them should play them. Second, when undertaking an advergaming campaign, it is imperative to concentrate on the fun factor. Lastly, because the ability to forward the game to a friend was an important element for those who'd played them before, this type of functionality should also be included.
The entire advergame research report can be accessed from the Sneaky Games website.
About Sneaky Games
Sneaky Games builds everything from online casual games to community related social environments in order to help companies initiate and maintain brand experiences. Flash games, iPhone games, virtual worlds, Advergames, and Social media games. Need a game? We can build it around your needs.
###