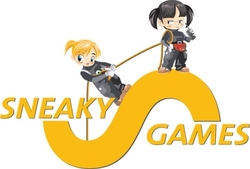 They're great to work with
Austin, TX (PRWEB) December 22, 2008
Sneaky Games, riding the wave of a dozen new game development and social media projects, experienced quintuple growth in sales, tripled their staff, and nearly doubled their client list in 2008. If the economy is a game, this Austin company is getting high scores.
For most companies, 2009 holds brutal budget cuts and painful layoffs. Sneaky Games just hired a V.P. of Business Development and expects a stellar year says David Godwin, the firm's President and CEO.
"Our pipeline looks incredibly strong," says Godwin. "We have at least one major casual game destination project on the horizon and several smaller engagements as well."
The popularity of gaming is undeniable and, according to a recent e-marketer study, Internet users said that they planned on trimming their budgets in 7 categories ahead of video games. In fact, only 35% of Internet users said that they planned on ratcheting back their video game spending. Game development companies like Sneaky Games have been the beneficiaries of this trend as savvy marketers have become interested in tapping into the interactive and addictive nature of games.
"Being in the game space is absolutely a requirement for business-to-consumer brands," says Godwin. "Here's the deal; online games are more popular than online videos. If you are looking for a way to engage prospective or existing customers, you won't find anything that does it better or more cost effectively than interactive entertainment."
Perhaps it's not just the power of games that is responsible for the growth of Sneaky Games. Godwin says that his approach is different too. "We look for customers that are interested in having a partner, not just a bunch of hired guns. Interactivity is hard to get right and it needs to be a whole-team effort."
Their customers seem to agree. Mark Erwin, the President of a near-launch social networking site brought his idea to Sneaky Games. "They're great to work with," he said; "They spent time trying to understand what I was trying to accomplish and then they well, just attacked it."
In addition to work for clients, Sneaky Games is also developing their own intellectual property. Godwin reports that another major game development for the company in 2009 will be the second version of its Sneaky Server - a proprietary multiplayer gaming platform that enables interactive gaming experiences.
About Sneaky Games
Sneaky Games builds everything from online casual games to community related social environments in order to help companies initiate and maintain brand experiences. Flash games, iPhone games, web based MMOGs, Advergames, and Social media. Need a game? We can build it around your needs.
# # #