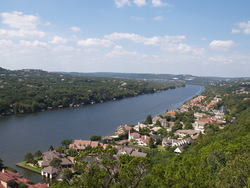 Austin, TX (PRWEB) March 7, 2011
After months of preparation, real estate broker and owner of Regent Property Group Brian Talley has launched his new website to assist buyers looking for Austin homes for sale. The website focuses on providing consumers access to active listings on the market for sale in specific areas, school districts, zip codes, subdivisions, and waterfront properties.
Due to the fact that Austin, Texas, draws a lot of buyers interested in waterfront homes, the new website also centers around this target audience. The Colorado river runs directly through the center of Austin on the south side of downtown with a series of dams that create Lake Austin just west of town and Lake Travis northwest of Austin. At 20 miles long and only 1300 feet wide at its widest point, Lake Austin is just minutes drive to downtown Austin and boasts some of the most sought-after homes in the city. As a result, there is a huge amount of website traffic from buyers looking for Lake Austin homes for sale. Brian's new website provides these consumers with exactly what they want, a list of homes for sale on the lake.
While waterfront homes are desirable to many buyers, not everyone is looking to pay a premium to be on the lake. There are many buyers that search online for Austin luxury homes for sale. Since a buyer can get a lot more for their money off the lake, there are some stunning homes featured for sale boasting luxury features and locations just minutes from downtown Austin. For those seeking a luxury lifestyle while getting the most for their money, Brian Talley's website will not disappoint.
The average consumer in Austin is looking for affordable homes to buy. Many buyers are targeting specific areas for their home search such as desirable neighborhoods, areas feeding into certain schools, or general areas such as zip codes. To meet the needs of the average consumer the new Regent Property Group website offers exactly what buyers are seeking; Austin homes for sale all over the greater Austin area organized by area, zip code, school district, and subdivision. With online access to this information and the ability to easily connect with an experienced REALTOR® when needed, the new http://www.homesearchinaustin.com website is a compelling resource for the online community of Austin home buyers.
# # #