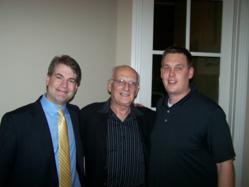 "This will be a great event! Phill and I use Curt's services and last time he spoke at one of our events, he received a standing ovation."
Austin, Texas (PRWEB) July 19, 2012
Curt Maly of Black Box Social Media, the national online marketing company based in Austin, Texas, that provides digital marketing services for top real estate professionals as well as professional sports teams, Reality TV stars, best selling authors, international speakers, and more, will be the featured speaker for Thursday Nights Austin Real Estate Networking Club (Austin RENC) event. Mr. Maly will be speaking about 'How to Utilize Social Media for Your Real Estate Marketing". The event starts at 6pm at the Norris Conference Center.
"This will be a great event," exclaims Shenoah Grove, President of Austin RENC and owner of Hippie Hollow Homes in Austin, Texas. "Phill and I use Curt's services and last time he spoke at one of our events, he received a standing ovation."
In the past week, Curt has spoken about his social media marketing strategies to a room full of entrepreneurs in California and to a room full of local small businesses in Austin, Texas, at the Austin Toros Sponsors Summit. Just last month, Curt Maly was a featured speaker for social media at the NBA Owners Meetings in Chicago.
"He's in high demand and has been one of our most requested speakers," continues Mrs. Grove. "Come out on Thursday and find out why so many business professionals from all types of industries want to hear from Curt."
"97% of real estate professionals rely on word of mouth referral for their marketing," says Curt Maly, who's company has recently written a chapter on social media marketing in an upcoming Dan Kennedy book titled 'Marketing Miracles'. "Real estate investors who are able to take advantage of my proven social media marketing system will receive an abundance of word of mouth marketing results online. On Thursday, I will detail my process on how to attract more real estate customers through social media than you ever thought possible."
Curt Maly is a former real estate investor himself who understands what it takes to generate leads online in this tough real estate market. On Thursday Night, Curt will share his system and his processes at Austin RENC.
For more information on Black Box Social Media, please visit http://blackboxsocialmedia.com/services/
Austin RENC is designed to educate and get their members the most accurate and up-to-date information about what's going on in the Central Texas real estate marketing and inform on what's working in today. The first hour will of the event will feature Phill Grove, creator of the All In One Done For You real estate program, presenting an intro to real estate presentation. The rest of the evening will include Curt Maly's social media marketing presentation as well as networking.
"Black Box Social Media's system has worked for many real estate investors," says Mr. Grove, owner of Austin real estate companies Love American Homes and Hippie Hollow Homes. "Their system was featured in my REI Marketing Machine and has assisted hundreds of investors from all over the U.S. on how to use the Internet to obtain leads. You can't afford to miss this Thursday nights presentation."
The event location is the Norris Conference Center, located at 2525 Anderson W. Anderson Ln. For ticket information, please visit http://www.meetup.com/AustinRENC/events/71165032/