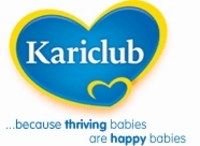 Kariclub has been created because we care about all our mums-to-be, mums and their babies, and we understand that while being pregnant and having a baby is an exciting time, it can also be a time of lots of questions
(Vocus) November 12, 2010
A website full of pregnancy advice and baby information for Australian mums has just launched at http://www.kariclub.com.au.
The new look Kariclub site (formerly known as clubNUTRICIA) has been designed specifically to give new mums helpful tips, friendly guidance and reassuring information on anything they might experience with having a baby, from preparing for conception, through to pregnancy, birth and their baby's ongoing journey.
Deborah Sue, Advisory Service Manager for Kariclub, says that the site is written and staffed by a team of helpful, caring advisors who can also be contacted for added support to mums and mums-to-be beyond the information that is available on the site.
"Kariclub has been created because we care about all our mums-to-be, mums and their babies, and we understand that while being pregnant and having a baby is an exciting time, it can also be a time of lots of questions," says Deborah.
"As a mum, if you're ever worried about anything to do with your baby, we're here to listen and reassure you throughout your pregnancy and help you grow a happy, thriving child!"
Deborah says that visitors to the site who want to access more pregnancy information can get in touch with our expert team via a free-call phone number, email or through LiveChat online.
"Our team is made up of a dietitian, nutritionist, midwife and paediatric doctor, most of whom are mums themselves, so they know exactly what it's like to have a new baby and what mums are going through," says Deborah.
"More often than not, what you and your baby are going through is usually entirely normal, so often the best thing to do is just talk with someone who understands."
Deborah says mums can also sign up at the baby club site to receive regular emails with pregnancy information directly related to every week of their baby's growth in the womb and their development from newborn all the way to toddlerhood.
Visit http://www.kariclub.com.au to explore the site, or to contact the Kariclub team phone 1800 258 268 within Australia.
###