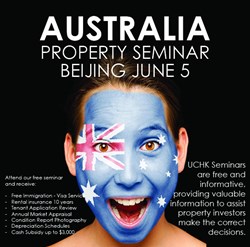 The use of a bank guarantee issued down payments is often a better option for Chinese investors concerned about the difficulty of transferring large sums of money to Australia
Beijing, China (PRWEB) May 13, 2013
Following the recent interest rate cuts by the Reserve Bank of Australia (RBA) to a 50 year low of 2.75%, UCHK Consulting Limited announce a new strategy to their property investment clients. 
The traditional method for overseas investors in to Australian real estate has been to make a 10% deposit of the value of the property to a solicitors trust account where it will be held securely under government protection. 
The latest advice from UCHK Consulting Limited to its clients however, is to simply open an account with an Australian bank in their own name, deposit the money in a fixed-term account with good interest returns, the bank will issue a bank guarantee as the down payment, and wait for the completion date of their property project. The advantages are twofold: 1) the process has been streamlined and the funds are in their own account, giving great peace of mind and personal security also 2) the client makes a healthy increase on the capital as it acquires interest, thus ensuring the funds are working for them at the same time as acting as a deposit.
With Australian banks located throughout every major city in South East Asia and China it is now easy for every investor to use this much easier and more financially beneficial way of holding their own deposit. 
UCHK Consulting Limited CEO believes now is the ideal time to purchase prime Australian property:
"The use of a bank guarantee issued down payments is often a better option for Chinese investors concerned about the difficulty of transferring large sums of money to Australia".
Another great development for property investors in specifically comes with the deal between the two governments for direct currency exchange. The Australian Dollar is now only the third global currency, along with the U.S. Dollar and the Japanese Yen, which has such a relationship with the Chinese Renminbi.
The Australian banking sector remains one of the most stable and robust banking environments in the world despite the global financial crisis. The RBA governor stated the manageable levels of inflation and steady GDP figures as a factor in being able to lower the interest rates and thereby welcome more investment.
On 5th June at the China World Hotel, Beijing, UCHK Consulting Limited will be advising clients on how to take advantage of this deposit strategy, what the interest rate cut means, as well as hosting many other experts from the Beijing community to speak on tax, visa, immigration and education.