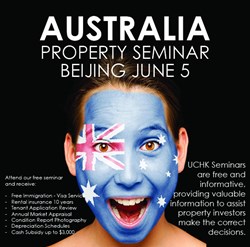 There are many misguided and incorrect views regarding Australia and its immigration and visa process
China (PRWEB) May 28, 2013
Every day, UCHK receives hundreds of enquiries from overseas property investors wishing to invest in real estate for sale in Oz and the options available for living in Australia.  
"There are many misguided and incorrect views regarding Australia and its immigration and visa process. Many real estate investors from Asia have been lead to believe that the only absolute way to gain a resident status is to invest $5 million. This is simply not true"  said UCHK CEO Scott O. Talbot
Yet others say that sponsorship by a company is a requirement for full residence. While that is one visa option, it is only one of many Australian visa and immigration possibilities. 
Each year, hundreds of thousands of people are granted visas and are gaining full residence, with each of those individuals and families coming from a unique background from every part of the world. Therefore, it is clear that there are many paths and visa options that can lead to full residence. 
UCHK and their partner law firm have issued some statements to make sure that every individual or family wishing to live or visit Australia have the clear picture on how they can achieve their goals for a life Down Under.
Australia is a nation built on immigration. Almost half of the entire Australian population were either born abroad themselves, or have an overseas parent. The tapestry of Australian culture and lifestyle is rich and varied, reflecting the collage of many immigrants who now call Australia home. 
The Australian Government apply the same principles to all applicants for visas and residence. Nationality and ethnicity are not factors. This year, in 2013, the Australian government announced their intention to allow at least 200,000 immigrants to settle in Australia.
Australia has a slightly aging population, with the birth rate decreasing over the past few decades. During the same time the overall population has risen slowly but steadily due to the positive increase from immigration. This has renewed labour forces, strengthened demand for services and kept the economy competitive and prosperous.
Darren Marx, partner at Rigby Cooke has said the following: "The impressive thing about Australia's migration laws are that even though they are complex, the rules are stated in law. You only need to have reliable legal advice that can review your situation, identify your potential options and provide a tailored pathway."
Australia offers several types of visas, with each one tailored to a specific objective of the applicant. Factors that are relevant include age, occupation, education, family status, finances, purpose of the visa, and so on. Some Australian visa types:
Student Visa
Visitor Visa
Sponsored Employment Visas
Retirement Visa
Business Skills and Investor Visa
Student Dependent Visa
General Skilled Migration Visa
Knowing which visa is the most suitable to apply for is not always easy. A government online service provides some assistance in this area - http://www.immi.gov.au - however UCHK clients also have the benefit of free visa and immigration consultation with a designated team of advisors.
As the leading property business in Australia, UCHK are associated with the latest and most impressive property portfolios available today. Their expertise in property means they can discuss each need of the investor.
There are many advantages to buying property in Australia including :
A currency hedge. With continuous change in currency values, the buyer gets a chance to lock in at a certain value.
Australian property investment provides excellent rental returns and capital growth potential.
Property investment in Australia is a valuable and prestigious asset on a portfolio. 
Security. By owning property in a foreign jurisdiction the client has peace of mind that the asset is liquid and available.
Australia's legal system is highly regarded for being able to protect all assets to ensure the investment is protected by law.
The property can be used as collateral against other investment or business activity.
UCHK CEO Scott O. Talbot has been helping overseas investors into Australia for 25 years. Speaking of the connection between property purchase and immigration he said:
"Buying property allows you to demonstrate your commitment to Australia and to give you a transparent asset when calculating your net worth and presenting your financial information. Buying property strengthens your ties to Australia, so when renewing your visa, owning a property can be an important piece of evidence to show your ongoing links, particularly if you continue to live in Asia for a considerable part of your time."
Rigby Cooke Lawyers coordinate the services of a core team of immigration professionals who have followed every law and update to government regulations for the past 20 years. They are best placed to advise UCHK clients on the right strategy for a prospective investor to move and reside in Australia.
UCHK invites all property investors to view their portfolio of exciting new developments and register on their website http://www.property.org.au to receive valuable insight into the property market, visa and immigration.