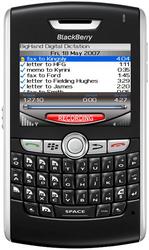 I personally find the digital dictation voice recording a lot clearer in sound, even when Cheryl sends me a dictation from somewhere with a noisy background using her BlackBerry, you could tell she was on the move, but it didn't phase me at all
Sydney, Australia (PRWEB) December 22, 2007
Australian law firm Gilbert + Tobin has successfully piloted BigHand Digital Dictation workflow software incorporating the first installation of enterprise dictation for BlackBerry in the Australian legal sector.
The pilot enabled Gilbert + Tobin lawyers to immediately record and send instructions and/or dictation wirelessly via their BlackBerry Smartphone to office-based staff, regardless of their location at the time. BigHand's Digital Dictation for BlackBerry removed the need for users to carry additional dictation hardware, and the instant delivery method improved document turnaround times.
Gilbert + Tobin Partner, Rani John, led the pilot and was happy with the usability.
"The dictation facility via BlackBerry is very easy to use. It is a great tool for progressing documents while out of the office," Ms John said.
Gilbert + Tobin Lawyer Cheryl Roberts added "Digital dictation via BlackBerry is a real time saver! In addition to being able to dictate from anywhere and have it ready on your return to the office, it has an added advantage of allowing you to communicate with your secretary by voice rather than phoning, or sending a time consuming email. I really think this option will add value to all."
Jacqueline Burns, Legal Secretary to Cheryl Roberts at Gilbert + Tobin was impressed with the sound clarity of the digital dictation.
"I personally find the digital dictation voice recording a lot clearer in sound, even when Cheryl sends me a dictation from somewhere with a noisy background using her BlackBerry, you could tell she was on the move, but it didn't phase me at all," Burns said.
BigHand Digital Dictation software is used by four of the top five Australian law firms, as well as Crown Law QLD, Deacons Hong Kong, Ebsworth & Ebsworth, Gadens Lawyers, Hicksons, Home Wilkinson Lowry, and Keddies Litigation Lawyers.
About Gilbert + Tobin:
Gilbert + Tobin is an Australian specialist corporate law firm. Established in 1988, our lawyers are preferred by clients operating in all sectors of the economy. We advise on large-scale commercial and government transactions that shape the future of Australia and the Asia Pacific region. We are also community lawyers. We provide high-quality advice to organisations and individuals throughout Australian society, and for those in need we provide it pro bono.
We have a highly professional team of around 200 lawyers working in a stimulating, egalitarian environment. We are a firm open to talent and ideas. The people who join Gilbert + Tobin want to work for an enlightened, contemporary firm willing to challenge the status quo. Clients engage us as their lawyers for the same reasons. For further information on Gilbert + Tobin, please visit http://www.gtlaw.com.au
About BigHand:
A Microsoft Gold Partner based out of Sydney, Chicago and London. BigHand is the leading digital dictation vendor in the global professional services sector, maintaining the five largest sites at international law firms and with more legal installations in total than all other suppliers combined. BigHand3 was nominated as "Best of Breed System of the Year" at the Legal Technology Awards 2007. BigHand was named as the fastest growing legal software developer in The Sunday Times Microsoft Tech Track 100 league tables for both 2006 and 2005. BigHand was also recognised by Deloitte as one of the 500 fastest growing software vendors in Europe in 2006. Additionally BigHand was voted "Best Legal Office Technology System 2004" from votes from over 14,000 lawyers and IT managers across the legal sector at the LOTIE Awards. BigHand's leading product also won the Society for Computers & Law IT Award in 2003 for "the most outstanding application of information technology to the law". Further information is available at http://www.bighand.com
BigHand is a BlackBerry ISV Partner. The BlackBerry and RIM families of related marks, images and symbols are the exclusive properties of and trademarks or registered trademarks of Research In Motion Limited -- used by permission.
###