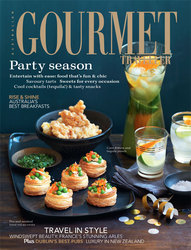 It all just depends, now, on how fast you drink—or walk.
(Vocus) November 1, 2010
Entertaining should be easy and fun, travel should be eye-opening and luxurious. These are the twin philosophies behind Australian Gourmet Traveller, the magazine of fine food and broad horizons.
Beholden to these rubrics, the November issue anticipates the upcoming party season with a cavalcade of tasty recipes and exotic locations. From a literary pub crawl in Dublin to Australia's best breakfasts, it's all about celebrating the finer things in life with enthusiasm and style.
With innovative recipes, exotic destinations and heaps of reviews and food news, Australian Gourmet Traveller is available via subscription at magshop.com.au, the one-stop source for Australian magazines subscriptions, gifts ideas, books and more.
The Big Stories
Ever fancied hoisting a pint in the same room Samuel Beckett, James Joyce and Oscar Wilde fuelled their literary engines? Dublin-based actors Colm Quilligan and Derek Reid thought you might, and offer a two-and-a-half hour tour of a handful of the city's 800 pubs. As Quilligan admonishes, "It all just depends, now, on how fast you drink—or walk."
Perhaps clearer of eye, Gourmet Traveller Magazine correspondents check in from New Zealand's Central Otago, Arles in south-west France and the Scottish Highlands, revealing culinary discoveries and personal journeys in search of the new.
Warm weather means alfresco dining and urban grazing at home, topped off with savoury tarts and selected sweet deserts. Mouth-watering photos and practical recipes guide you through preparation and presentation.
Everything goes better with tequila, and when different variations of the dependable party-starter are paired with a series of tasty snacks, even the stuffiest of 'do's is off and running.
A Day in the Life
Good morning, sunshine, what'll it be? Looking for brekkie from Sydney to Perth, the editors have found 43 reasons to get out of bed in the morning. Corned beef hash with poached egg and confit cherry tomatoes at The Commons in Darlinghurst flies the flag for tradition, but a bolder choice might be the crumbled coddled egg, anchovy and black pudding salad offered by Pope Joan in Brunswick East, Victoria. No matter where in Australia you find yourself, there's a breakfast spread close by.
Is it lunchtime already? Eavesdrop as media mogul Harold Mitchell joins pioneering restaurant critic and current Iron Chef Australia judge Leo Schofield for capellini and a chat at Melbourne's Centro Ristorante Italiano.
Or make your own regional delicacy, starting with the legendary New Orleans oyster po'boy. This crunch-crusted, soft-centred baguette can be stuffed with anything from catfish to soft-shell crab to shrimp, as prawns are known in the American south. There are even variants with roast beef and gravy, Louisiana hot sausage and French fries slathered in cheese. But the recipe offered is for the classic oyster po'boy, which tastes transcendental with a beer in the other hand.
Get the Party Started
Warm weather evenings mean mingling and discovery. Features Editor Pat Nourse wandered the third annual Taste of Melbourne festival in search of the latest and greatest, even as food stylist Wilson Chung runs down the familiar and the exotic in the world of Chinese barbecue.
Iranian cuisine is explored and celebrated in "Saraban," the new cookbook from Greg and Lucy Malouf. An exclusive excerpt offers Persian delicacies from spicy dips to fruity sherberts.
Restaurant profiles, produce tips, chef's recipes and much more round out the must-have magazine for the planning and implementation of party season.
###