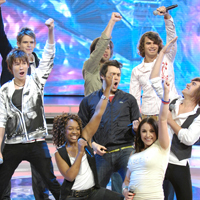 Doin' it for the kids
Australia (PRWEB) October 16, 2007
For the first time in Australian Idol history, the Australian music industry elite and the final 6 Idols will perform in a once off television premiere to help raise money for the two charities Ronald McDonald House and Telstra Care Flight.
Direct from the Idol stage, the event, titled "Doin' it for the kids" will feature special performances by The Rogue Traders, Darren Hayes, Katie Noonan, The Noll Brothers and Vanessa Amorosi. The Idol Top six will also perform with members of the Australian Idol alumni; Damien Leith, Shannon Noll and The Young Divas in a spectacular night of singing and heart felt moments.
And for the first time, fans can also be part of the live action by sitting in one of the hot judges seats. Dicko, Mark, Marcia and Kyle are vacating their seats for the special event and fans can bid for a place in one of the hot seats. eBay have helped facilitate the online auction for the special event. Fans are encouraged to check it out soon, as the auction closes on Wednesday the 17th October.
Fans can bid for the four judges seats up for auction by visiting:
Dicko (Ian Dickson)
Mark Holden
Kyle Sandilands
Marcia Hines
The event will be aired on Network Ten on Friday the 19th October 2007 in a 2 hour live special from 7.30pm. All of the evening's performances can also be downloaded from the Australian Idol website.
About Australian Idol Official Website:
The Australian Idol website is jam packed with Australian Idol information and exclusive video content. Fans can find out everything they ever wanted to know about the Final 12 Idols as well as catch up on all their performances to date in their very own dedicated video channel.
###