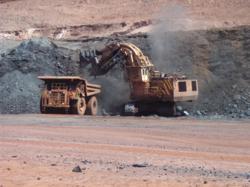 Such growth in our mining sector has lifted work opportunities across the board for Australians willing to relocate
(PRWEB) November 24, 2011
There is little doubt, says property investment innovator, Rick Otton, that the Australian state of Western Australia is booming -- while the rest of the world struggles.
In its report 'Mining in Australia 2011 to 2026', economic forecaster BIS Shrapnel predicts that annual mining investment in Australia will surpass $A80 billion by 2015, from projects in the oil and gas, iron ore, coal and copper sectors. Following a pause in investment in 2009/10 -- the height of the global financial crisis -- it rebounded by 11% in 2010/11 and is forecasted to increase a further 66% by 2015/16.
"Such growth in our mining sector has lifted work opportunities across the board for Australians willing to relocate" explains Mr Otton. "And the associated demand for housing in many areas has become unprecedented."
"The more remote mining and oil/gas sites recruit staff on a fly in/fly out (FIFO) basis, and in the case of the West Australian operations, the home base is identified as Perth" continued Otton. "This has put pressure on both the purchase and rental markets in Perth, but, at the same time, has created attractive opportunities in Australian property investment.
According to property monitor, realestate.com.au, there is a great imbalance in property prices in the vast state of Western Australia, with homes in remote areas like Karratha and Port Hedland fetching way in excess of similar dwellings in major capital cities. In the capital, Perth, the median house price in early 2011 was $480,000, but in Karratha and Port Hedland the median prices for the same period were $795,000 and $750,000 respectively.
"There is little doubt that homes in this price range are way out of reach of first home buyers or most singles - if they go down the traditional mortgage path. However, the opportunities for creative property investors are immense in markets such as these" says Mr Otton. "The rent to buy strategies that I teach are made for just these scenarios."
For over 30 years Rick Ottin has been regarded as an innovator in the property investment industry, in Australia, the US and the UK in particular. He has taught thousands of people, particularly the self-employed and those without a hefty deposit, how to invest in property without the need to approach traditional lenders.
Mr Otton offers many free resources, including ebooks, videos and webinar recordings that teach the rent to buy strategies that allow everyday people to enter dynamic property investment markets like Western Australia.
More information at rickotton.com
About Rick Otton
Entrepreneur, Author, Speaker and Property Coach
Rick Otton is a self-made multi-millionaire and real estate consumer advocate, property investor and business owner.
He is the founder and director of We Buy Houses Pty Ltd, a leading property enterprise which has successfully expanded into the international markets of Australia, United Kingdom, New Zealand and USA.
In 1991, Rick Otton uncovered an innovative strategy of buying and selling real estate and went on to amass a portfolio of 76 properties in his first 12 months of investing. Rick buys, sells and trades property, using little or none of his own money, and structures transactions to create positive cash flow.
Since 2001, Rick has taught nationally and internationally over 35,000 students how to buy, sell and trade residential property without getting bank loans or acquiring debt, using little cash and minimising risk.
Many of Rick's students have been able to create wealth, buy their first home, restructure a negatively geared property to make it cash flow positive and build their property portfolio year after year.
Rick's mission is to transform the way people buy and sell property - to empower others with the knowledge there is another way. He regularly meets with leading government officials who seek his advice on solving the housing affordability crisis.
His philosophy has been highlighted in various Australian TV shows. He appeared in the ABC documentary 'Reality Bites' as well as 'Today Tonight' and 'Hot Property'.
Rick has also been profiled in numerous national and international magazines and books as he shows everyday people how to create wealth in real estate, without bank loans or saving large deposits.
###