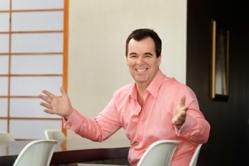 I'm on a personal mission to transform the way people buy and sell property in Australia!
(PRWEB) January 15, 2013
In urging them to book early for his series of one-day seminars, real estate strategist, Rick Otton, has made property investors struggling with money-draining negative gearing strategies, securing bank finance, scraping together a deposit or the endless cycle of renting have been made an 'extremely bold promise'.
Mr Otton says that each event, registrants will be shown how to generate positive cash flow from day one, even without a deposit, stamp duty, bank loan or real estate experience. He is so confident in his creative no-money-down real estate strategies that he has promised to give anyone who doesn't "love" the seminar $650 in bonus materials.
"I'm going to prove to them that my strategies work, and spend a full day, at no cost to them, uncovering my real estate system. While some people shake them off as 'impossible' my students are out there using these strategies to generate thousands of dollars a month in passive income deals," Mr Otton said.
"You can make property investing your new business, part-time or full-time, no matter what financial situation you are currently in, if you do just two things – learn and implement the the strategies I will reveal, the ones most real estate agents and property investors don't even know it exists."
A personal mission
Mr Otton is renowned for his non-conventional property investment techniques, which have been described by bestselling author Dale Beaumont as "the future of real estate".
Based on his 22-year journey of purchasing more than 300 properties in Australia and the US using little or none of his money, Mr Otton has successfully mentored others through his techniques of buying a house for a $1, generating positive cash flow from multiple properties and breaking ties with banks for finance.
Mr Otton said while most people had been "brainwashed" into believing that traditional models of home ownership and property investing were the only options open to them, anyone willing to think outside the square and have an open mind would thrive with his strategies.
"I'm on a personal mission to transform the way people buy and sell property in Australia! The Australian property market is in a state of crisis. Currently, we have property owners who are going broke trying to pay off their negatively geared properties. We have sellers who are struggling to sell their property in this cashless economy. The banks have tightened lending, crushing the dream of home ownership for thousands of Australians," he said.
"During times of crisis, new opportunities thrive. There's never been a more important time than now for the Australian public to discover this secret to no-money-down real estate investing."
Mr Otton's special one-day seminars (to be held in Sydney, Brisbane, Melbourne and Perth in February 2013) will include live demonstrations, interactive exercises and activities, case studies and lessons in cutting-edge strategies.
To register or to learn more about these free one day seminars visit HowToBuyAHouseForADollar.com.au
About Rick Otton
Rick Otton has spent decades making money by snapping up inexpensive real estate and putting it to work building wealth. Now, he's teaching other Aussies how to do the same. He is the founder and CEO of We Buy Houses, which operates in the U.S., U.K., Australia and New Zealand putting his strategies to work every day.
Otton got his start in alternative real estate investment in 1991 and within a year acquired 76 properties. In years after, he made a fortune using his low-risk, high-reward strategies to inexpensively acquire real estate.
Now, Otton wants to share the wealth by sharing the wisdom, teaching us how to buy and sell real estate without cutting banks and other middlemen in on the deal.
Otton has been featured in a variety of television programs and magazines, including Today Tonight, A Current Affair, Australian Property Investor and more.
You can learn more about Otton and how to invest in residential real estate without using banks at HowToBuyAHouseForADollar.com.au