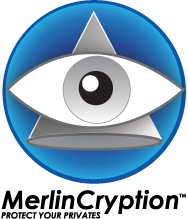 Two-step authentication is static and vulnerable to attack. MerlinCryption's encrypted authentication with extensive choices is customized and cannot be identified or predicted.
Austin, Texas (PRWEB) August 30, 2012
MerlinCryption's dynamic, variable, changeable, Smart-Authentication Platform empowers retailers, manufacturers, enterprise, and security providers to take control with "under-the-hood" scripted security elements, resulting in bulletproof protection.
Most authentication is programmed in-house and based on something you know, something you have, and/or something you are. MerlinCryption secures authentication to the next level by incorporating additional methods, based on dynamic "temporary" factors. This unexpected category includes non-linear and environmental factors, which aptly detect risk of compromise.
"The indomitable power behind MerlinCryption's solution is not only in the number of factors available, but also in our ability to customize each client with factors that are unique to their company and business environment," says Paul "Prem" Sobel, CTO Partner, MerlinCryption, Inc. "These confidential, interchangeable factors are unlike other client's factors and cannot be identified or predicted by criminals."
MerlinCryption clients not only expand authentication options, but also gain the advantage to choose, change, and increase or decrease factors, on demand, by running the platform's scripted controller, which "wraps" the authentication process into a tightly customized and impenetrable sequence of execution.
This programmable software development framework invokes the unique functionality of customized factors and automates all machine nodes during end-to-end encryption, decryption, and authentication processes. Clients have vast latitude to innovate flexible security, dictating the level of simplicity or complexity of their individualized authentication system.
"Unlike MD5 or SHA hash, which is sometimes added to authentication, and which is repeatedly attacked, MerlinCryption employs powerful Anti-Statistical Block Encryption (ASBE) to the authentication process," continues Sobel, "ASBE utilizes variable key length. Each key scales in size between 2008 bits and 2 GB. The encryption engine also allows scalable passwords up to 64 KB."
The ASBE algorithm is not subject to attack models and methods of Cryptanalysis. Every encrypted authenticating transmission is different, as the algorithm produces different cyphertext with varying length, even when repeating the same plaintext, key, and password input.
Clients doubly benefit from the added customization of the encryption engine, which is unique to the individual company's authentication platform and is not interoperable with any other encryption engine.
MerlinCryption supports authentication with flexible security designed with a small memory footprint in flash memory or files. Software is written in C# for Windows and in C for DOS, Linux, and QNX.
ABOUT MerlinCryption, Inc.
The Smart-World's Smart-Encryption™ software company in Austin TX, MerlinCryption develops encryption and authentication solutions that protect against counterfeiting, cloning, software compromise, physical machine compromise, and man-in-the-middle attack, designed specifically for the embedded and M2M (machine-to-machine) market.
The unprecedented security platform protects integrity of data-at-rest, data-in-motion, data-in-use, and data-in-change as it is created, viewed, edited, shared, stored, and moved across communications channels and through the Cloud. The encryption is NSA reviewed, BIS approved for export, and OFAC compliant. The cryptosystem enables compliance with FDA, HIPAA, and HITECH.
MerlinCryption offers full-scale encryption platforms for M2M, authentication, and enterprise, as well as eleven stand-alone software programs for Information Security professionals.
MerlinCryption is changing the way the world protects data and secures connectivity. http://www.MerlinCryption.com.