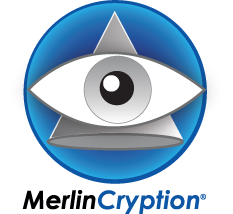 MerlinCryption opens the door to a multitude of new authentication detection factors with dynamic "temporary" triggers.
Austin, TX (PRWEB) February 29, 2012
MerlinM2M Smart-Authentication Platform stops cloning, software compromise, machine theft compromise, and man-in-the-middle attack, protecting OEM developers and M2M providers with invulnerable end-to-end security.
Using a new dynamic authentication method, based on "temporary" factors, in addition to the typical constant factors, MerlinCryption partners gain a variety of new sources to their authentication tool box. This powerful and flexible tool includes non-linear and environmental factors that better detect risk of system compromise.
Authentication historically is based on something you know, something you have, and/or something you are. This new fourth dynamic category, not only expands OEM developer options, but also provides the advantage to choose, change, and increase or decrease these factors, on demand. M2Ms can dictate the level of simplicity or complexity for their authentication process, as desired.
MerlinM2M, The Smart-World's Smart-Encryption™ secures the authentication platform with MerlinCryption's hallmark 2008 bits to 2 GB scalable keys. The encryption is HIPAA compliant, OFAC compliant, and BIS /NSA approved for export. The platform also incorporates an optional SHA-2 and memory scrub.
Because SHA hash cannot be reversed, MerlinCryption employs powerful encryption to the process, allowing the dynamic authentication process to be changed, as desired by the M2M user. OEMs further benefit from customization of each encryption engine, which is unique to their machine portfolio and not interoperable with any standard or custom version.
The platform is run by a scripted controller, called MerlinWrap, that essentially "wraps" the authentication process into a tightly customized and impenetrable sequence of execution.
"All solutions developed at MerlinCryption leverage a 'dynamic' quality." says Paul "Prem" Sobel, CTO and MerlinCryption LLC Founding Partner, "We embrace authentication factors that are changeable, variable, and temporary. These factors cannot be identified or predicted by hackers. This dynamic factor advantage is critical to achieving secure machines and data, as well as guaranteeing system integrity."
According to Yankee Group research, it takes between four and six supply-chain partners to develop and manage just one M2M solution, which is time-consuming and costly. MerlinM2M consolidates the authentication and data protection process, significantly reducing time and expense of development and deployment for M2M partners on the back-end.
About MerlinCryption LLC
An encryption security software company in Austin TX, MerlinCryption LLC develops smart-world solutions that protect against cyber theft and cloning in the extraordinary M2M (machine-to-machine) market sector.
Leading edge MerlinCryption technology secures dynamic end-to-end data, pioneering innovative software to protect data-at-rest, data-in-motion, data-in-use, and data-in-change.
The unprecedented encryption platform protects file, email, instant messaging, password, and broadcast data as it is created, viewed, edited, shared, stored and moved across communications channels. The technology company offers full-scale encryption platforms for M2M, Enterprise, and Authentication, as well as eleven stand-alone software programs for consumers. MerlinCryption architecture is changing the way the world protects data and secures connectivity.
# # #