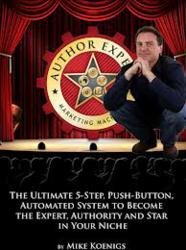 Author Expert Marketing Machines is filled with great ideas that you can use right away as a small business owner, entrepreneur, author, expert, speaker, consultant, coach or creative type
Austin, Texas (PRWEB) October 07, 2012
Mike Koenigs, creator of Internet marketing products such as Traffic Geyser and Instant Customer and publishing guru, has released the third video in his video series called "Proof", designed to show how his newest creation, Author Expert Marketing Machines, can help anyone become an expert in their niche industry. To watch this video, please click here.
This third video shows how regular people have been able to effortlessly build profitable relationships with prospective clients and customers through emerging online media. These people come from many different industries, and generate money for themselves on their own schedule.
"In this video, media-marketer (and former Hollywood producer), Mike Koenigs, shares the stories of people who...just like you...didn't know how much they could earn from becoming stars online," says Curt Maly, contributor to http://ExpertAuthorMarketingMachines.com. "Now they know. They really know. And you can too."
To read more about what the Author Expert Marketing Machines is, click here.
"Author Expert Marketing Machines is filled with great ideas that you can use right away as a small business owner, entrepreneur, author, expert, speaker, consultant, coach or creative type," says Mike Koenigs, creator of this product. "And if you're too smart for your own good, overeducated but don't know the first thing about marketing yourself and are struggling to get started, seen, heard and paid what you're worth, this is the system you've been looking for!"
The product also includes a set of DVDs of people that Mike Koenig has interviewed for this product. This list includes best selling authors and marketing superstars like Ariana Huffington of the Huffington Post, Dan Kennedy, Timothy Ferris, Debbie Ford, and more.
Mike Koenigs has created such programs like Traffic Geyser and Instant Customer. He's also a publishing guru...having helped a bunch of New York Times Bestselling Authors over the past decade including Tony Robbins, Tim Ferriss, Darren Hardy, Brendon Burchard, Brian Tracy, Harvey Mackay, Arielle Ford, John Assaraf, and many more with their online marketing and promotions.
"Author Expert Marketing Machines is designed to show you how to perform the same tasks for yourself that I did for all the celebrities and best selling authors I've worked with over the past 5 years," continues Mr. Koenigs.
Imagine what it would be like to have a #1 best-seller, to be featured in a movie, or to get promoted to hundreds of thousands of fans and subscribers. It's possible and, according to Mike Koenigs, anyone can do it. The game has changed and the door is open for anyone to achieve the kind of success they desire.
To watch this video, please click here.