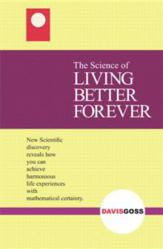 My book is a radical departure from the norm, but for more than 60 years, its validity has been proven to the benefit of a widely diverse client base
WARNER, N.H. (PRWEB) June 13, 2013
According to author Davis Goss, problem solving procedures in the business environment are becoming less creative and more difficult to solve. In his book, "The Science of Living Better Forever" (published by AuthorHouse), Goss attempts to reverse this way of thinking. "In a world where problem solving procedures are based on academic theory, philosophical abstractions and confrontational approaches," explains Goss, "there is a proven scientific problem solving technique is truly unique."
During his 60 years as a creative consultant, Goss realized that there was one basic cause of all problems, the existence of the universal natural laws.
"When this cause is known, understood and properly implemented, all problems, regardless of their nature, characteristic or apparent severity, will disappear like darkness in the presence of light," says Goss. The book gives readers a comprehensive outline of the natural laws and principles and how they can be applied to daily activities to solve problems.
"My book is a radical departure from the norm, but for more than 60 years, its validity has been proven to the benefit of a widely diverse client base."
"The Science of Living Better Forever"
By Davis Goss
Softcover | 6 x 9 in | 68 pages | ISBN 9781425937225
Available at Amazon and Barnes & Noble
About the Author
Davis Goss began his professional career as a commercial artist and graphic designer with 10 years in his own studio. In 1958, he founded the creative consulting firm IDEATION. Since its foundation, IDEATION has served as creative consultants and professional problem solvers for clients that have included many of the giants of American business. Davis Goss holds many U.S. Patents and is listed in "Who's Who in America".