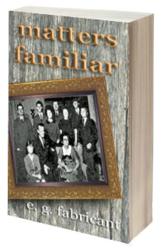 Matters Familiar is a diverse collection of themes and stories with varied cast of characters, some endearing and others enlightening. I found entertaining moments as well as evocative ones and some situations which felt 'familiar.'
SACRAMENTO, CA (PRWEB) February 13, 2013
Like every other aspiring author, Tim Hart—writing short fiction where "people matter" as E. G. Fabricant—wants his first short-story collection, "Matters Familiar," to sell. When it does, he also wants to pay it forward.
"My stories are about real people, with real hopes and needs, confronting real challenges," Hart/Fabricant said. "I believe the best stories that need to be told are in progress, all around us. If I had to label it, I'd call 'Matters Familiar' a time capsule for the first decade of the 21st century. Its stories are narratives driven by complex, entertaining characters, up against one thing and another, and told mostly out of their own mouths. A few examples:
"Ashley Alert. You're six years old. Your mother never lets you out of her sight, schedules every waking moment, and won't let you read what you like—even if it's okay with Daddy. What do you do? Ashley Butterworth knows."
"The Jewel of Genoa. You're 83, a retired Nevada cowgirl, and a shut-in, since your beloved Earl died 15 years ago. Your best friend and fellow inmate at the home, Hattie, has taken a turn for the worse. Nothing in your life makes sense anymore. Where to turn? Pearl O. Mutter and her co-conspirators head east."
"Robbin' Hood." You're not the sharpest knife in the drawer, not a made guy, and the Trenton brugad ain't doin' so good. Your sis is a widow, your nephew Richey needs a lotta medical work, and the new Don is a real gavone. You've got one redeeming skill: a head for numbers. Can you use it to make a difference? Pettirosso 'Petey' DiCappello goes to work."
Hart/Fabricant also wants to put "Matters Familiar" to work for a deserving Sacramento family. "As a former member of their Board of Directors and a volunteer, I believe in Sacramento Habitat for Humanity," he said. "Simply put, Sac-Habitat improves our community, one family in need at a time, by partnering with them to earn a new life in a modest but state-of-the-art home. It's a 'total village' enterprise.
"Here's my pledge," he said. "For every copy of "Matters Familiar"—digital or paperback—sold, I'll donate $1 to Sacramento Habitat for Humanity. My goal is to raise $75,000 to sponsor a family in 2013."
Hart describes himself as "a recovering lobbyist, trying to reinvent myself (at 64) as the world's oldest, best new fiction writer." Why the nom de plume? "My literary hero, Sam Clemens, had one: Mark Twain," Hart said, "so, of course, I had to have one, too." The name's derivation? "It's a play on words, which I love to do. Think about it; you'll figure it out."
The "Matters Familiar" collection is available in paperback from Amazon.com, Barnes & Noble, and other online and retail bookstores, and in eBook form from Amazon for Kindle, Barnes & Noble; Apple's iBooks; Smashwords; and other digital publishers. Buyers can also make their purchases from books4homes.com and from Hart's literary website, egfabricant.com.