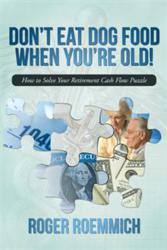 ROSWELL, Ga. (PRWEB) June 13, 2013
In "Don't Eat Dog Food When You're Old!: How to Solve Your Retirement Cash Flow Puzzle" (published by iUniverse), experienced investment officer Roger Roemmich delivers an informative personal finance guide for retired people or those on the verge of retirement. The book provides insights and tips on post-retirement planning and for maintaining a basic standard of life.
In "Don't Eat Dog Food When You're Old!" Roemmich focuses on the need to look at the bigger picture of ensuring a continuous flow of income and not getting obsessed with investments alone. He does this by illustrating some real life examples and explaining the top retirement landmines to avoid. He touches on all aspects of finance management, including dealing with Medicare.
An excerpt from the book:
With more than eight thousand baby boomers hitting the magic age of sixty-five every day in the United States, and with millions more of us waiting in the wings, questions about retiring are bound to come up pretty much anywhere and at any time. At the top of the list for many of us is whether retirement is even possible. Let's face it: the world is a much different place than it was for our parents and grandparents. The global economy has transformed life in America, and not always for the best. The stark realities of a harsh economic environment are hitting boomers now more than ever before, and don't expect things to change. If anything, the going will get tougher, not easier.
"Don't Eat Dog Food When You're Old!"
By Roger Roemmich
Hardcover | 6 x 9 in | 182 pages | ISBN 978-1-4759-8716-4
Softcover | 6 x 9 in | 182 pages | ISBN 978-1-4759-8715-7
E-Book | 182 pages | ISBN 978-1-4759-8717-1
Available at Amazon and Barnes & Noble
About the Author
Roger Roemmich is Chief Investment Officer of ROKA Wealth Strategists and an IRS-approved continuing education provider. He brings 37+ years of diverse experience to his clients. Roemmich holds a Ph.D. in accounting, is a Certified Public Accountant and a Certified Financial Planner. He is also the creator of CAMP SCORE, a "retirement readiness" evaluator.