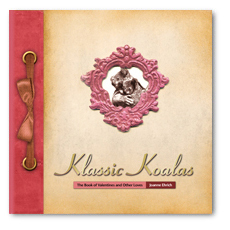 "Klassic Koalas: The Book of Valentines and Other Loves captivated me in a similar way the Griffin and Sabine letters books did... feels a bit like reading through a girl's diary...this time you know it isn't forbidden."--Denis Sweeney, California
San Mateo, CA (PRWEB) February 1, 2010
Klassic Koalas: The Book of Valentines and Other Loves is a book like no other, with images that will entrance and delight even as its words remind readers of the eternal nature of love--not just that between lovers or among friends or family members, but also the love we feel for creatures we hold dear and for the wonders of the earth itself.
Artist Querida DiGiovanni has come upon her grandmother's photo album; its aged parchment pages carry her most treasured memories. Her husband, Querida's grandfather, at work on a sculpture in his studio; herself, on the beach, by the ocean she loved; photo after photo of sweet and tranquil koalas, many holding their young close in sheltering embraces, with one-word descriptions of traits that are needed for any relationship to survive. Querida, whose very name means "beloved" in Spanish, seizes upon this cache of memories and uses it to house her own: love letters from a distant sweetheart, sketches of people and animals she loves, images from the dreams that inspire her work.
The old album comes to life under Querida's fingers, as she fills the parchment with her own work: compelling faces observing the observer; lovers defying gravity to escape the bonds of earth; mysterious branches and root systems of trees as powerful and hypnotic as the force of love itself. Author and artist Joanne Ehrich has taken such seemingly disparate elements as treasured old love letters, snapshots of long-departed family and friends, and images of koalas cuddling their babies--romantic love, the love of family and companions, and the love that exists even within nature--and woven them through her magnificent artwork into an enchanting book that will delight lovers, friends, and individuals alike.
Ehrich, an artist, has made the fictitious Querida's task a joy to behold. She has blended her own artwork with vintage photos and a series of real love letters from the absent and mysterious "RB," whose correspondence regales his beloved Querida with his comings and goings and the ache in his heart from their separation. The result is a heartfelt tribute to that most mysterious and powerful of feelings that unites us with each other and with our world.
Ehrich's previous books include the stunning Koalas: Moving Portraits of Serenity and Koalas: Zen in Fur, as well as other Klassic Koalas titles such as the delightful Klassic Koalas: Vegetarian Delights Too Cute to Eat. Her work has also appeared in numerous shows and venues.
Expressions of love are complex. The Book of Valentines and Other Loves captures this complexity in images that aim straight for the heart, but evoke more than just mere sentiment--a perfect gift for anyone you treasure, young or old, at any time of year.
The accompanying free download, The Valentines Code, provides insights into both the book and its author/artist through an interview. Conducted by Chilean-born flautist Viviana Guzmán, who has lent her creativity to a series of questions that elicit from the author deeper thoughts and explanations of the book and her creative process, the interview offers readers the opportunity to gaze with Ehrich into the heart of love--in its broadest aspects.
Insights about the 'artist's journey of creation' are provided in the Soul's Code article that likens Ehrich to 'Alice down the rabbit hole, leading us along the path that helped her to reconnect with her true calling through the creation of Klassic Koalas: The Book of Valentines and Other Loves.
About the Author/Illustrator:
Artist Joanne Ehrich's talent was recognized when she was one of only a hundred artists selected for "SharkByte Art," a public shark sculpture project on display in the streets of San Jose, California in 2001. The project was commemorated in the coffee table book American Art Parades. Not content to focus solely on artwork, Ehrich directed her talents in a different direction in 2004 when she founded Koala Jo Publishing, which is aimed at helping with wildlife preservation. There she wrote, designed, and published eleven books centered around one of the world's most beloved animals-the koala. For her first book, Koalas: Moving Portraits of Serenity, she recruited 120 photographers from 24 countries, resulting in a masterpiece that garnered over fifty five-star reviews not just for the stunning visuals and elegant layout, but also for its loving treatment of the iconic koala. The book was named "...the best collection of koala images" by the American Library Association.
This venture into publishing helps wildlife practically as well as artistically; Ehrich has worked with the Australian Wildlife Hospital, a major project of the late Steve Irwin's Wildlife Warriors, to raise funds for the Hospital through sales of another Koala Jo title, as well as merchandise.
About Viviana Guzmán:
Described by the New York Times as "an imaginative artist," Chilean-born flutist Viviana Guzmán (http://www.viviana.org) has been featured on programs for PBS, NPR, and NBC. She has performed with such luminaries as Placido Domingo, John Denver, and Glenn Close, and she's graced the stage of Carnegie Hall five times. Viviana has fans worldwide, such as Kate Winslet (Titanic) who said, "I LOVE your music. It is truly beautiful!" and Isabel Allende, who wrote, "Your music is celestial!"
###